Every year since the Global Partnership's founding in 2018, the number of our partner organizations has grown, bringing to life the network effect. The value derived and impact created, individually and collectively, have increased as more ideas, experiences, opportunities, and expertise are shared. By communicating, convening, and collaborating on common agendas, partners have built relationships and trust—the glue that holds it all together and transforms us from a loose network of organizations into a partnership to advance data for sustainable development. 
Partners have told us that a primary reason that they join the network is to grow their work and expand their reach. They value gaining knowledge of new and ongoing data initiatives and making connections that help solve problems like lack of data capacity.* 
That is both the value of and what it means to function as a network: Leveraging the network effect enables partners to amplify their work, create and share knowledge, and broker trustworthy data-focused partnerships.
Through partnerships, advocacy, and learning opportunities, we have supported each other to achieve a breadth of impact from increasing knowledge on data for development topics to improving technical skills and changing behaviors and practice. The result? In the Global Partnership's most recent survey of partners, 80 percent of respondents told us they were proud of being part of this network and of what we have achieved together.** 
Our joint project reached more people than we would have achieved on our own. Besides that, [the Global Partnership] helped make our data advocacy more effective. 
- NGO/CSO partner 
Making a bigger impact together
Today we are a broad and diverse network of partners representing governments, civil society, academia, companies, multilateral organizations, foundations, and media from across all regions of the world, focusing on a wide range of data for development topics. The diversity and breadth of this network fosters connections, inspires new ideas and approaches, fuels collaboration across sectors, and catalyzes action to achieve change. 
As a global network, what we achieve is greater than the sum of our part(ner)s. Together we have brokered more than 120 data partnerships and are working with 48 countries across the globe to strengthen timely decision-making, inclusive data systems, and accountable data governance. 
[Because of the network,] we are more connected to different inclusive data initiatives and have become more skilled in citizen-generated data processes, as well as general data processes.
- NGO/CSO partner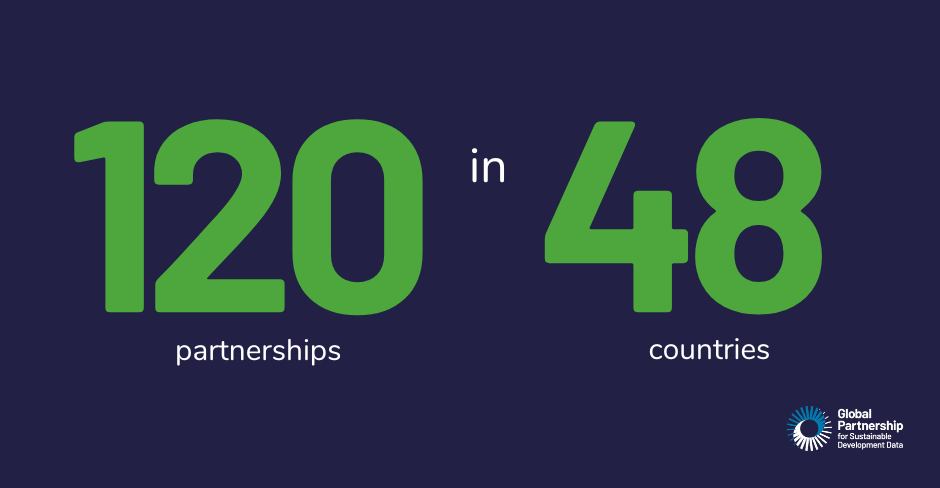 These three pillars respond to the key challenges our partners have identified in harnessing and using data for decision-making. "Focusing on timely data, inclusive data systems, and accountable data governance reflect the three problems that policymakers tell us they face at a national level," says Global Partnership CEO Claire Melamed, "data that is out of date, data that is not representative of their whole population, and data systems that are not accountable and that therefore lack public trust."
In 2022, 65 percent of partners made progress in one of these three areas because of their engagement with the Global Partnership.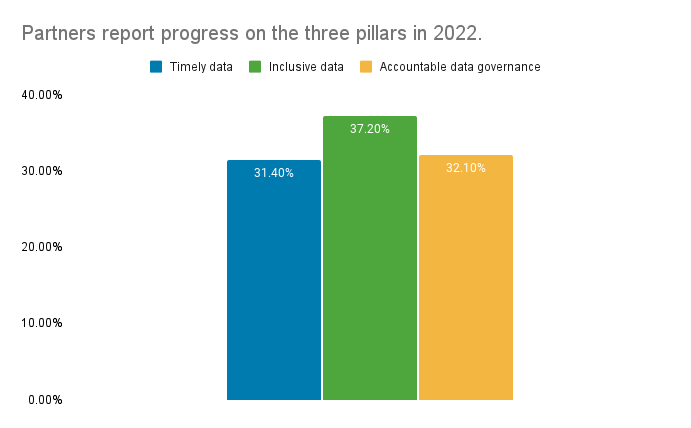 Thanks to the support of [the Global Partnership], initiatives have been developed within [our national statistical office] to close information gaps for communities such as LGBTQ+ and for the use of alternative [data] sources.
- Government partner
What's in it for me? The value of being part of the network
As an organization, it's important to know what our partners value about being in the network so that we can be sure to invest in meeting their needs. Our annual survey early this year asked partners what they had gained in the past year from being part of the network. Here is what we heard: 60 percent of partners reported gaining new knowledge; 51 percent said they had strengthened their technical skills; and 42 percent reported changing approaches or practices by engaging with stakeholders and/or by incorporating new tools or data.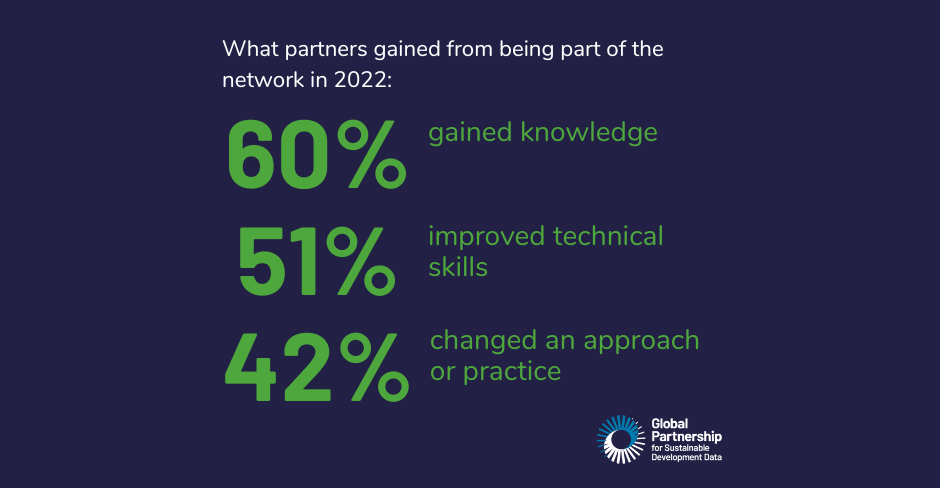 Partners in 2022 gained knowledge in data topics ranging from data values to alternative data sources such as citizen-generated or geospatial data and data management, sharing, and governance best practices. One government partner told us they had learned about the "usefulness and relevance of cooperating with public and private actors.
Partners also said that being part of the network has enabled them to strengthen or gain technical skills in new methodologies and tools, data science, management, and storytelling, and multi-stakeholder collaboration. For example, partners from the government sector learned about the "use of scanner data, using API tools and other software to read and analyze data." At the heart of what we do in projects, like supporting the creation of a water data collaborative in Paraguay, our partners from the for-profit sector told us that they learned "about partnering with multiple stakeholders to set up a data collection methodology."
I think the Global Partnership is making a great work towards improving data literacy and awareness for governments and non-profit organizations that don't see the potential in the data. This is a basic step that needs resources, and the Global Partnership is making significant impact here.
- For-profit partner 
Finally, partners said they had actually changed their approaches or practices due to being part of the network by building multi-stakeholder engagement processes or by incorporating new tools, methods, and sources of data. "On inclusive data…, we were able to consider subgroups we wouldn't have thought were left behind," a NGO/CSO partner told us. This includes projects such as the Inclusive Data Charter, which just celebrated its fourth anniversary.
The value of multi-stakeholder engagement
Across the three areas of impact we track, the value of multi-stakeholder engagement and collaboration has been a common thread. Through the power of the network, partners have collaborated with more and different stakeholders, reached larger and broader audiences, and achieved change faster. The key to making these advancement possible lies in the relationships built and the trust fostered through the network. 
The #DataValues Manifesto principles also reflect the collaborative approaches to data creation, sharing, and use embraced by partners. In the most recent survey of partners, 85 percent of respondents told us they wanted to deepen their engagement with the Data Values Project and campaign through means such as actively participating in advocating for change or shifting data practices. The Data Values Project emerged from a call from this network for a vision for a fairer data future, and response from partners is confirmation that the principles in the #DataValues Manifesto continue to resonate in the data for development sector. 
The Data Values campaign has brought out some thought-provoking conversations and helped in fine tuning how I think about data in the work that I do: how to better invest in public participation for accountability and encouraging citizens to have the confidence to engage their leaders through data.
- NGO/CSO partner
An invitation to partner with us
We're at a crossroads as an organization and a sector as we approach the midpoint of the United Nations' Agenda2030. The Global Partnership is in the process of creating and refining it's five-year strategy and is seeking public input on this plan starting in mid-July.
With less than seven years remaining to achieve the Sustainable Development Goals, we are seeking to tackle the challenges identified by our partners in this survey, including limited access to and availability of data, lack of qualified personnel, and constrained financial resources. 
Together, we will continue to build and support partnerships that power programs like Data4Now and the Administrative Data Collaborative; advocacy efforts around global data financing; progress on public-private data sharing, and capacity-development work through the Capacity Accelerator Network (CAN). 
There is a place for you and your organization at the Global Partnership. If you'd like to learn more about joining the network and collaborating to solve today's biggest challenges using data, email Partner Network Associate Julia Nicolls at jnicolls@data4sdgs.org. 
In 2023, we're seeking to energize our collective work by bringing partners together for a three-day Festival de Datos to share ideas, inspire innovation, broker connections, and build momentum for better data. Will you join us? 
Click here to learn more about the Festival de Datos | November 7 - 9, 2023 | Punta del Este, Uruguay
---
Link to previous years' surveys:  2021, 2020, 2019, 2018
Janet McLaren, Policy and Communications Officer, co-wrote and edited this post. Muthoni Mugo, Monitoring, Evaluation, and Learning Program Officer at the Global Partnership, contributed to analyzing data from the survey and to writing this post. ​​​​​​​
* According to our most recent survey, the top four motivations for joining the network are (respondents could choose more than one answer):
1. Knowledge of data initiatives: 75%
2. Credibility in the data for development sector: 66%
3. Ability to expand work and reach more people): 66%
4. Connections with capacity builders: 64%
**Data in this post is based on the 2022 annual partner survey's 177 responses. The majority of respondents (48 percent) in this year's survey were from government partners. Non-governmental and academia/research organizations made up the second and third largest groups of respondents at 28 percent and 11 percent, respectively. To learn more about the survey, email Charu Vijayakumar at cvijayakumar@data4sdgs.org.