Blog
Three lessons for successful data partnerships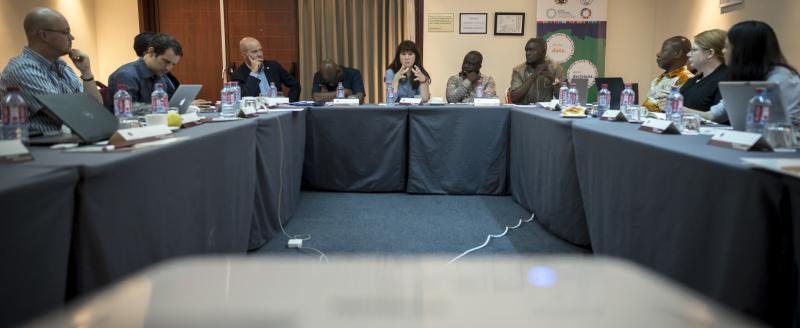 Partnership is all the rage in the development sector – it's rare to read any report about big global challenges that doesn't include 'partnerships' as at least a part of the solution. And of course, here at the Global Partnership for Sustainable Development Data, we wholeheartedly agree – it's our job!
We've spent years co-creating partnerships in our network that are delivering real impact at national and regional level. But we've had our failures, and we know from experience that effective, successful partnership are really not that easy in practice. 
Based on our experience of working with organisations around the world and across sectors, here are my top three lessons for successful partnerships in the world of data and technology.
1. Match problems with solutions at the right scale
There are some partnerships that bring big solutions to big problems – something like cloud computing or a new software system can revolutionize how whole institutions do their business. There are others that bring small solutions to small problems, and both can be the basis of good partnerships.  
Sometimes, there's a mismatch between the scale of the problem and the scale of the solution, and that's where partnerships can fail. I've seen this most often when a highly complex problem meets a highly specific solution.
There are many brilliant people who turn their attention to one thing and ask: 'what if?' 
What if we could get a laptop into every classroom and deliver the best teaching materials at the click of a button?
The company finds the answer, then goes out to find the kids and get them learning. It's easy, right?
But when it comes to education, governments have complex problems. They will tell you that educating kids is something that needs not just the hardware but also the teachers, and the buildings, and getting children there in the first place, and feeding them when they're there, and making sure there is sanitation and connectivity and all the infrastructure a school needs. So a simple solution doesn't match with the problem as they see it.
Where there's a mismatch like this, we end up with a solution looking for a problem that doesn't match with the problem looking for a solution.
One common thread in successful partnerships is where the government understands the specific contribution that tech can make, and where the tech partners understand the broader context that is critical to success. An understanding of the scale of the different parties' challenges is critical to defining a problem that can be solved together.  
2. Understand what success looks like for different stakeholders
The first question a tech person might ask about a new gizmo is 'does it work?' And thank goodness for that. We all need to know that new stuff that we spend money on is going to actually do the job. So, for an innovator in tech working with a government to make lives better, the first objective is often the 'use case'.  This is proof that something is usable, in the sense that it can be used to solve the specific problem it's designed for.
But for governments, who need to think about the responsible use of public money, and the need to get re-elected, that's only half the point. The gizmo might work, but is it a good use of public money compared to other ways of achieving the same objective? How many people will benefit, and can it keep delivering over time? Success is not only the proof that something works, but also the proof that it has positive social outcomes at a price they are prepared to pay, that it's politically acceptable, and that it can be sustained over time. 
Creating the right partnership means understanding that while some parties are thinking about the 'use case', others are thinking more about the 'useful case'. Partnerships rely, in the long run, on the product or service being useful for a group of people large enough to justify investing time, or money, or whatever it takes, to keep the wheels turning. 
Good partnerships are built on an understanding of how all parties see what success looks like, so that they can define the results they are looking for in ways that work for everyone.
3. Speak up and listen
Sometimes partnerships never get off the ground. Opportunities for collaboration can be missed when public and private sectors have different ways of approaching the conversation. 
As one example, tech conferences and trade shows like Mobile World Congress are usually louder than those dominated by government officials. The sheer volume of thousands of people pitching hard at each other can be pretty overwhelming. Many of them have something to sell – something they are very invested in both personally and financially, and they are there to tell you about it.  
By contrast, government officials generally don't like to give much away. In their world, power comes from withholding information, not from offering it, and governments often come with questions, not with answers. 
That's a big culture gap, and it can get in the way of developing successful partnerships to solve problems. Sometimes governments need to transmit their questions in ways that tech audiences can understand. And with some careful listening, those innovators who do want to solve problems for the public sector, but are finding it hard to create good partnerships, can better understand what the problems are and how they fit in to the solutions. 
Overcoming this culture clash is when co-creation can start. And, with a shared understanding of the problem and an appreciation of what each is trying to achieve, that's where great partnerships are born – partnerships like the Africa Regional Data Cube, which is delivering the data to drive progress on the environment and agriculture in five countries across Africa. Or partnerships like the City Waste Tracker in Freetown, Sierra Leone, bringing together city authorities with local developers and companies to develop systems for tackling the growing problem of urban waste. We've been proud to be involved in catalyzing the collaborations that have led to both of these successful partnerships, and many more.
Here at the Global Partnership, partnership is what we do. Based on these three lessons, we are scaling up our ambitions and fostering new partnerships around the world, developing collaborations that bring the world's best knowledge to solve the world's worst problems.