Seven community activists chosen to lead action for a fairer data future.
As data and data-driven technology reshape our societies, we urgently need to challenge the underlying power structures in data systems to ensure that we all share in the benefits from its collection and use.
Community-led action is essential to creating data systems that help and empower people instead of harming and excluding them. Across the world, grassroots activists and community leaders are recognizing the potential of data and working to realize the opportunities of data while preventing the harms.
The open call for applications to the Data Values Advocates program surfaced the incredible expertise, interest, and momentum among people at the grassroots level from all around the world, passionate about creating just, transparent, and accountable data systems. In less than a month, nearly 400 activists applied from more than 65 countries. The Data Values campaign is committed to creating more opportunities for grassroots leaders to engage and lead action, with more engagements planned for 2023.
An intersectional lens was applied to forming the first cohort of Advocates, with emphasis placed on applicants' ideas, enthusiasm, experience, and knowledge of both grassroots advocacy and Data Values-related topics. 
Introducing the Data Values Advocates
The new 2022 Data Values Advocates cohort includes people from Europe, Africa, Asia, and North and South America. The advocates will champion data values and shift attitudes and approaches to data by contextualizing the Data Values Manifesto to their local contexts. For the next year, they will lead the #DataValues campaign and support others, especially those from marginalized communities, to engage and push for a fairer data future.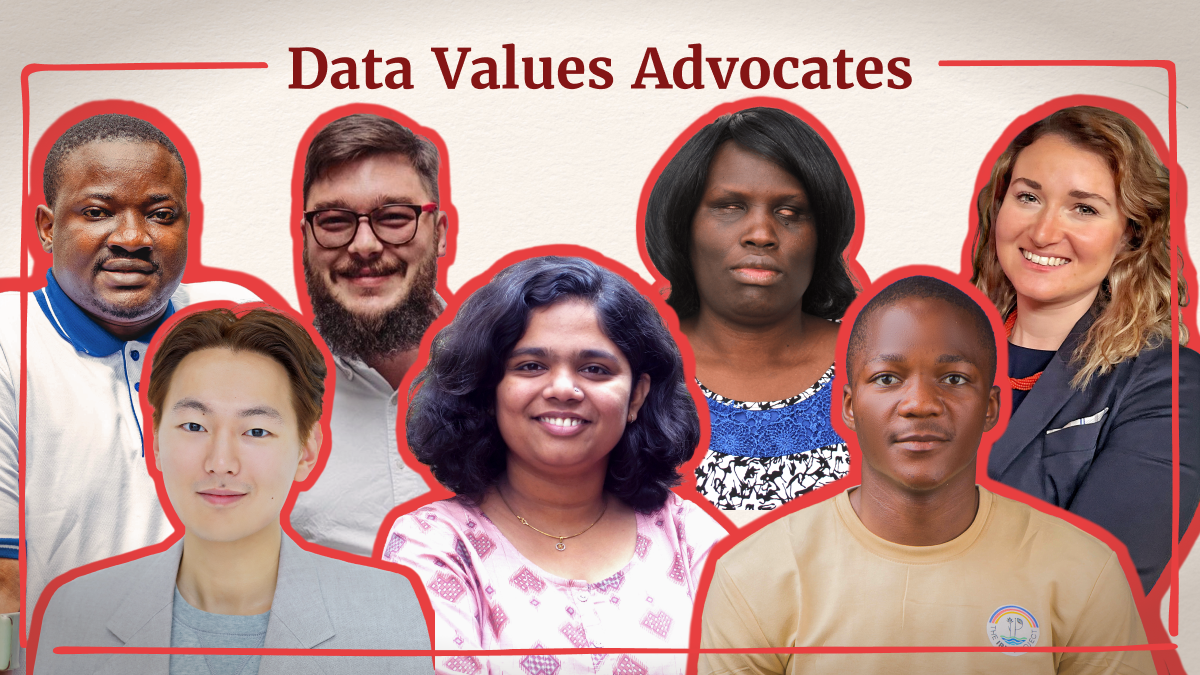 Angeline Akai Lodi is a disability rights advocate from Nairobi, Kenya, dedicated to promoting a barrier-free society where everyone is treated with dignity.
"Data is the key to inclusion. As a Data Values Advocate, I'm committed to promoting inclusive data for all, including persons with disabilities, and advocating for change toward a fairer data future," says Angeline.
Beom Joon Baek is a youth leader and activist from Korea living in the United States. Joon is an advocate for data privacy and digital surveillance and has experience working in artificial intelligence.
"We live in a world where data will be the source for political, economic, and social power. As a Data Values Advocate, I want to make sure that the future shaped by data is fair, equitable, and just," explains Beom Joon.
Daniel Carranza is a civil society leader and advocate for open data, open government, and civic tech in Uruguay and across Latin America, committed to embedding equity at the heart of data systems.
"Just as with technology, the way we collect, manage, publish and use data is not neutral. We can advance towards a fairer and more equal future through data, but only putting values and human rights first," says Daniel.
Mayuri Dhumal is a writer and gender activist from India focused on bringing knowledge of language, gender, caste, and ethnicity from the margins to the mainstream. 
"For too long, data and knowledge creation have been the authority of the privileged few. As a Data Values Advocate, I strive to help people build narratives from their own lived experiences and change age-old perspectives towards data," says Mayuri.
Yazid Mikail is a policy advocate, data scientist, storyteller, and social development professional from Kaduna State, Nigeria, committed to increasing awareness and action on data literacy and use from the community to national levels.
"Data is key to solving every social problem. Communities, policymakers, and stakeholders must learn how to use data effectively to create solutions to the issues affecting their communities," explains Yazid.
Sylvain Obedi is a disability rights and climate justice activist from Walikle, living in Goma, Democratic Republic of Congo, focused on ensuring persons with disabilities live dignified and independent lives and understand their human rights and the impacts of data.
"Data is wealth and must be accessed and distributed equitably, including among youth from marginalized communities. As a Data Values Advocate, I am committed to leading and engaging youth worldwide to achieve a more equitable data future," says Sylvain.
Benedetta Veneruso is a youth leader from Italy, living in Tallinn, Estonia, and is interested in the impacts of gender data biases and shaping European discourse and integration.
"Data is regarded as 'the new oil.' Yet the value of data should not come from profitability. What we need is better data practice ensuring fair and transparent access while protecting privacy and representing diversity," explains Benedetta.
Follow the work of the new Data Values Advocates on social media using #DataValues and share your ideas with them.
The year-long Data Values Advocates program provides training, funding, and support to the seven advocates to lead and shape prominent communications, advocacy activities, and events. 
This program is a core part of the #DataValues campaign, a global movement involving hundreds of people from more than 60 countries working to create a fairer data future. Launched in September 2022 at the United Nations General Assembly, the campaign has already reached more than half a million people. 
To create change and put values at the heart of data systems, we need everyone's voices, ideas, and expertise. Explore the campaign toolkit and bulletin board for ideas on how to get involved. Throughout 2023, there will be many #DataValues engagement opportunities, high-profile events and communications, and community meet-ups. 
Sign up to the campaign mailing list to learn about more opportunities and moments in the Data Values Campaign.