Overtopped bridges, flooded impassable highways, parents missing work because schools were closed by storms — the economic impact of our changing climate is increasingly obvious to Kenyans.
Many ordinary people's livelihoods depend on more predictable weather conditions than we are experiencing. This includes the small-scale farmers who rely heavily on rain-fed agriculture, villagers who rear cattle and must search even harder for pasture and the women and men falling ill from insect-borne diseases resulting from global warming.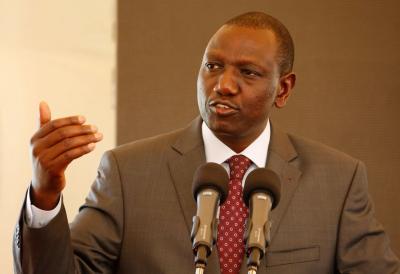 The government has just made history by deploying its first locally made satellite to space from Tsukuba Space Center in Japan. The Nano-satellite was developed by students and researchers of the University of Nairobi in partnership with the Japanese Space Agency. The small satellite will be used for space observations and to track our coastline.
And this Science Week, Kenya made history a second time by launching the 'Africa Regional Data Cube', a satellite and Earth observation partnership initiated by Kenya in partnership with the Global Partnership for Sustainable Development Data, the Committee on Earth Observation Satellite, the Group on Earth Observations, Amazon Web Services and Strathmore University in Kenya. Four other countries: Ghana, Tanzania, Senegal, and Sierra Leone will be part of the initiative, collaborating with Kenya, while other African nations are sure to follow our progress with a view to joining in coming years.
The data cube layers satellite imagery in a way that allows users to more easily see and understand physical changes across our land. This technology will help us understand month by month how our land is being used so that we can target interventions aimed at improving our actions against climate change, help smallholder farmers, and secure sustainable food and water for our citizens. We will use the data cube to underpin the success of food security, a pillar of our 'Big Four' priorities alongside manufacturing, universal healthcare, and affordable housing.
This is a signal to the world that Kenya recognises the importance of Earth observations and intends to invest in building local capacity for data analytics and spur innovations, local applications, and solutions. A week of intensive training sessions for the five countries, led by the National Aeronautics and Space Administration (NASA), have succeeded in making the technology fully operational to a small number of users. There are ambitious plans to bring in researchers, campaigners, journalists, and even farmers in the field in the coming years.
Using satellite data for sustainable development isn't about helplessly observing our changing seasons, but providing insights that can be used to take action and strengthen the backbone of our economy. Almost half of Kenya's land is agricultural; among other produce, we grow cocoa, tea, coffee, rubber, nuts, fruit, and flowers, accounting for more than a quarter of our gross domestic product. But productivity is not keeping up with population growth and droughts and floods present tough challenges to food security.
Meanwhile a generation of smallholder farmers is aging out of their livelihoods. In this generational shift there is a chance to modernise agriculture to better feed the country, boost productivity, and provide jobs for some of the one in six youths who are unemployed.
Moreover, the treasure trove of imagery from satellites, which has been secured without cost and which will be updated monthly — is so powerful that it can be used to spy on illegal logging and mining, and action can be taken swiftly. It is my hope that the Data Cube will provide us with better capability for analytics and monitoring human activities that threaten our way of life and livelihoods.
Jomo Kenyatta famously said, "Our children may learn about the heroes of the past. Our task is to make ourselves the architects of the future." I hope that by embracing technology and data-led change we can better protect our children's futures by safeguarding our precious lakes, forests, and lands.
This article was originally published in The Star, Kenya on 16 May 2018