Inclusion in data is essential for citizens to exercise their rights and hold public authorities accountable for policies and programs. Historically, "Indigenous communities around the world have experienced the adverse consequences of being excluded from data, of having no say in how they will be measured, and of having their lived experience ignored," according to Gwen Phillips, an Indigenous data advocate and member of the Ktunaxa Nation. In Canada, this resulted in health policies that did not effectively serve First Nations people, focusing on the negative rather than recognizing the strengths of Indigenous communities. 
Inclusion in data is often understood as making sure that the experience of the largest possible number of individuals is reflected in collected evidence by, for instance, implementing data disaggregation. Data disaggregation helps to uncover the experiences of different groups of people and to identify disparities and inequalities by breaking down characteristics such as disability status, gender, or age.
Due to this focus on disaggregation, inclusion in data is often confined to the data collection phase. But participatory data governance approaches allow us to see a bigger picture as we put individuals and/or communities in the driver's seat to define how their data are collected, managed, and used. Participatory approaches range from formalized partnerships to consultations, citizens assemblies, and steering committees (see image below). These forms vary in the extent to which they rely on direct representation of individuals (i.e. citizens' assemblies) or indirect representation and delegation (i.e. data intermediaries). They also vary in their degree of institutionalization, ranging from approaches leveraging new legal entities (i.e. data trusts) to formal or informal consultative mechanisms (i.e. multi-stakeholder fora).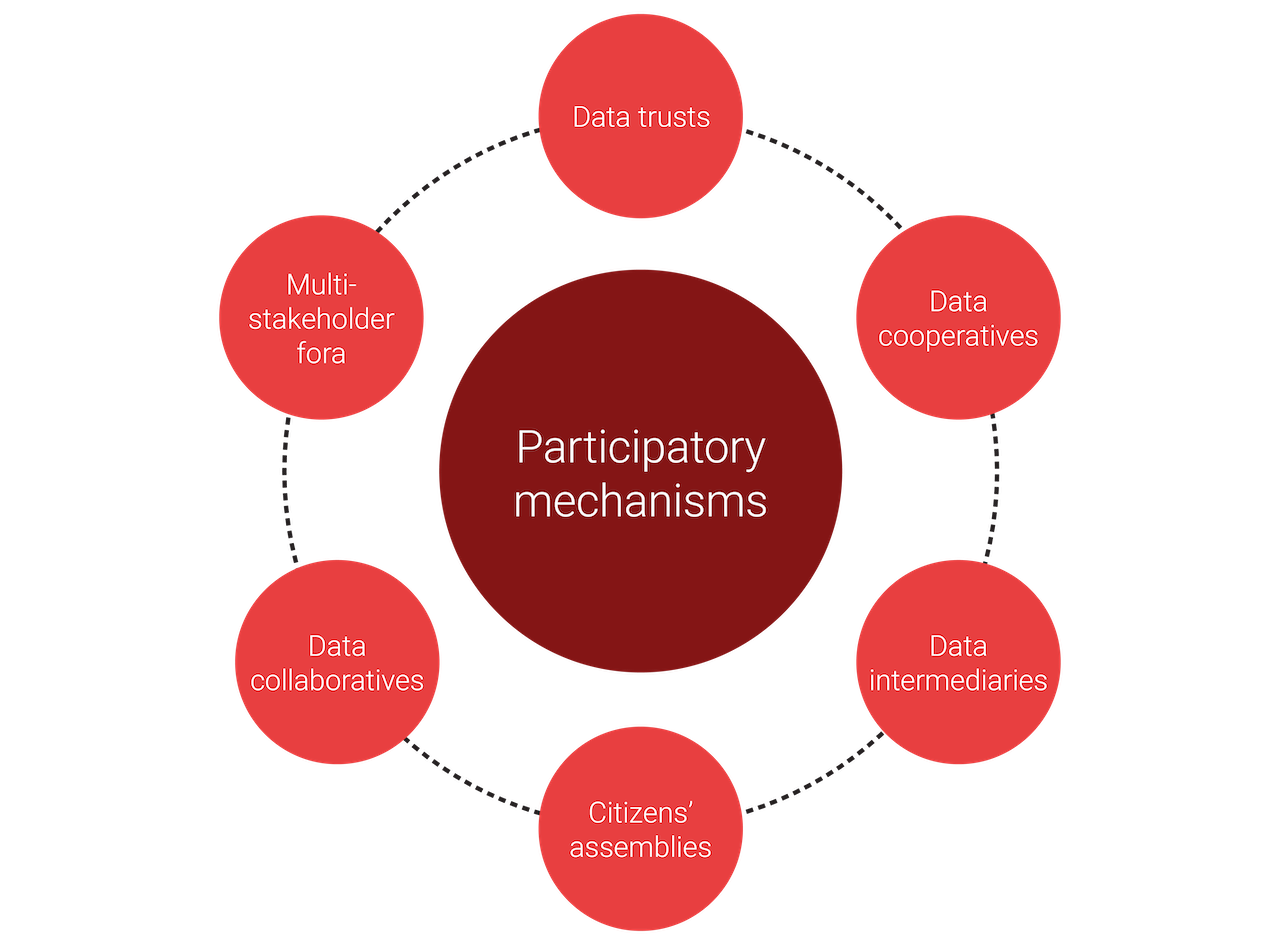 What the majority of participatory data governance approaches have in common is strong collaboration between public authorities and civil society organizations and representatives of communities that have been historically marginalized and excluded or who are at risk of being marginalized. This leads to better data and evidence for policy-making. For instance, a partnership between the Canadian government and First Nations communities led Statistics Canada to better understand the factors that exacerbate exclusion and capture the lived experiences of these communities. 
These practices are pivotal for increasing inclusion and accountability in data beyond the data collection stage. In fact, while inclusion at the data collection phase remains extremely important, participatory data governance approaches can be adopted at any stage of the data lifecycle.
Before data collection starts: Building relationships with communities at risk of being marginalized helps clarify "what to count" and how to embed the needs and aspirations of vulnerable populations in new data collection approaches. The National Department of Statistics in Colombia's (DANE) multi-year work with Indigenous communities enabled the statistical office to change their population survey approach, leading to more inclusive data policies. 
After data is collected: Collaborating with civil society organizations enables public authorities to assess how and through which channels data should be shared with target communities. When the government of Buenos Aires wanted to provide information to increase access to sexual and reproductive health services, it worked with civil society to gather feedback and develop a platform that would be useful and accessible to the target population.
At the stage of data use: Participatory approaches for data inclusion also support greater data use, both by public authorities and by external stakeholders. In Medellin, Colombia, the availability of more granular and more inclusive data on teen pregnancy enabled the government to develop better prevention policies and establish personalized services for girls at risk, resulting in a reduction of teen pregnancies by 30%. In Rosario, Argentina, the government's partnership with associations representing persons with disabilities led to the development of much more accessible and inclusive public portals, which in turn resulted in better access to services for all citizens. 
Implementing participatory data governance approaches is not without challenges. Establishing new relationships between governments and civil society organizations can be demanding, and establishing new mechanisms requires time and investment. These challenges, though, are outweighed by the knock-on benefits of participatory data mechanisms, which can spur increased collaboration among government agencies and lead to more impactful policies and effective use of public sector resources. 
The good news for public authorities is that implementing participatory governance approaches to foster inclusion does not require starting from scratch and changing existing data lifecycles entirely. Small changes in the ways in which data is collected, processed and analyzed, such as establishing working groups with civil society organizations or consulting the data subjects on their preferences for data management, can have a tremendous impact on people's lives and substantially increase data inclusion. 
The Open Government Partnership (OGP) and the Global Partnership for Sustainable Development Data (the Global Partnership) will continue to closely collaborate to shed light on how participatory data governance approaches can advance the inclusion agenda and highlight best practices and lessons learned from OGP members and organizations from the Global Partnership's network.