Celebrating a year of campaign activities, we reflect on key moments this past year. From community growth, to global convening to instrumental action taken by partners, we are closer to achieving a fairer data future. In this post, we're excited to bring you insights from five remarkable partners who share firsthand how Data Values has shaped and impacted their work. But don't stop there—join us and others for an upcoming Data Values community event and celebration this October.
As technology and digital platforms continue to advance, data is increasingly central. However, many individuals are left out of data entirely, while others face unintended consequences of being included. This is deepening inequalities, and we must confront these challenges head-on to rebalance power dynamics within data.
The Data Values campaign does just that. By uniting hundreds of individuals and organizations from around the world, who are all dedicated to challenging power dynamics within data, we are collectively fighting the existing imbalance. The campaign is a collective effort to transform every aspect of data - from collection to funding, management, and use - ensuring equitable benefits for all.
As we celebrate the first anniversary of the Data Values campaign, we stand on the precipice of remarkable achievements —and we're excited to look back at the incredible moments we've had, the collective impact we've made, and the future action that awaits. Join us on October 3, 2023, at 9am ET / 2pm BST/ 4pm EAT / 6.30pm IST to commemorate year one of the campaign and to share your ideas and insights on what the next phase of the Data Values movement should address and confront.
So what have we achieved in the past 12 months? 
We've built a community 
The Data Values campaign has more than 600 individuals and organizations from over 100 countries, forming a global network of allies and advocates, all pushing for a fairer data future. We've gathered the community virtually to have open discussions about various aspects of the Data Values Manifesto. These gatherings serve as platforms for the movement to come together, discuss, and plan positive actions. We're not just talking; we're taking concrete steps to change how data is funded, designed, managed, and used for the better.
We've engaged with global communities
We've hosted sessions at six global events, including the UN ESCAP's Stats Cafe, World Data Forum, Digital Rights and Inclusion Forum, and RightsCon. These events have given us the opportunity to share the Data Values Manifesto with diverse audiences, expanding our reach and impact. We've also hosted meetings and workshops with national governments and institutions in places like Costa Rica and Botswana and introduced them to the importance of data values as well as initiating conversations about adopting the manifesto in their own country plans and objectives. This month, the Global Partnership's Power of Data High Impact Initiative that was launched at the UN Headquarters during the SDG Summit saw 15 governments announce national data partnerships to drive investments in data systems and to use data ethically and effectively to achieve the Sustainable Development Goals (SDGs).
We've launched innovative programs 
First, the Data Values Advocates Program, a group of seven grassroots activists from around the world leading action and tackling data inequalities. They're the boots on the ground, championing data values within their communities. Additionally, in the spring of 2023, we introduced the Fairer Data Future Award Program, providing small grants to organizations pushing for a more equitable data future. Participants in both programs arrange workshops, training sessions, events, and social media campaigns to amplify underrepresented voices and advocate for fair, transparent, and responsible data systems. As these programs are nearing completion, we're excited to showcase the impact they've made at Festival de Datos this November. Subscribe to our newsletter for more updates as we continue this incredible journey toward a fairer data future for all.
We've worked with a network of partners to institutionalize data values 
Taking the lead in promoting and implementing data values are institutions and organizations like National Administrative Department of Statistics of Columbia, Joint IDP Profiling Services, and the UN Sustainable Development Solutions Network. They've met with officials and government stakeholders to start conversations and even organized events and workshops for national statistical offices, civil society and others to discuss and implement the manifesto. Some partners have created engaging content, like interactive story maps, to drive our collective message home. 
To capture the myriad of actions and impacts the Data Values campaign has had in the past 12 months, we asked partners to share actions or activities to bring to life what they've undertaken to support the campaign or contribute to a more equitable data future for all. 
Here are five organizations whose actions have created more equitable data systems and practices:
1. Data4Change, United Kingdom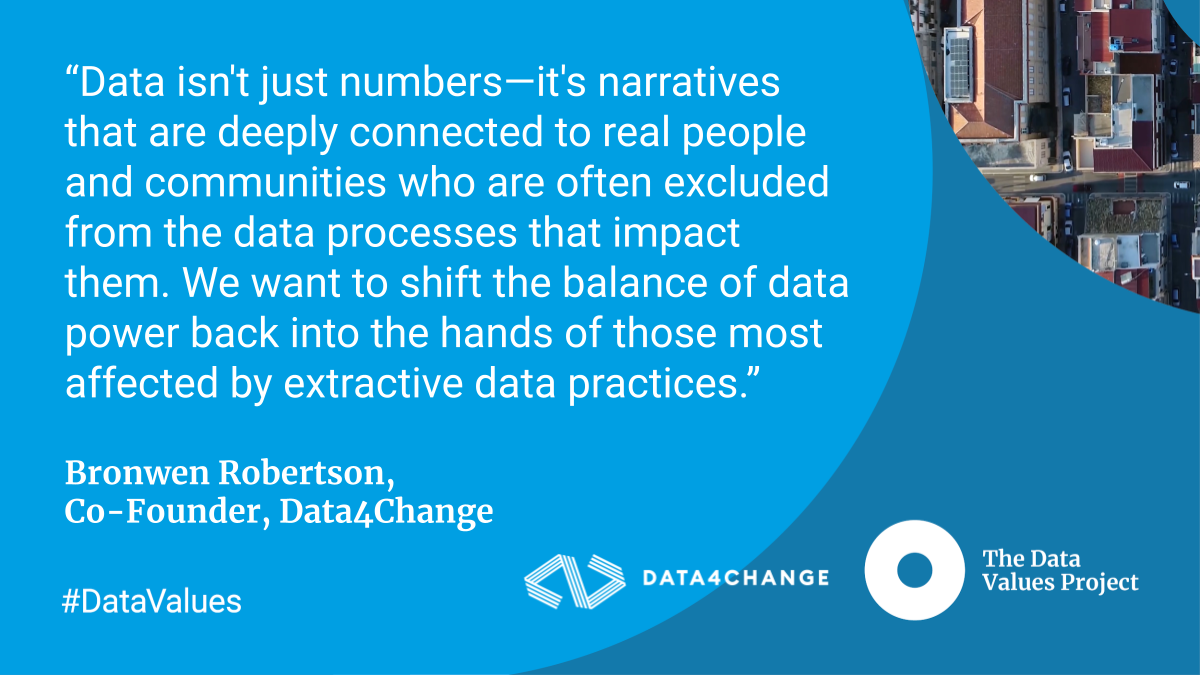 Empowering marginalized communities through data literacy and confidence
By: Bronwen Robertson, Co-Founder 
Over the past year, Data4Change has deepened its collaboration with community partners, spanning 178 refugee-led organizations, 8 LGBTQI rights groups, and 60 human rights organizations across 48 countries. In a world where the power of data is so often stripped away from vulnerable communities, our approach focuses on supporting communities to reclaim their data and to amplify their stories. 
To break down barriers from language to internet access, we've translated our self-study curriculum into Spanish and Arabic and we've addressed accessibility hurdles like confidence using technology and financial barriers with small grants and stipends. We work alongside communities to co-design data collection that respects their voices, whether it's through art projects or community-guided surveys, replacing traditional extractive data practices with participatory models. In line with the Data Values campaign, our efforts are aimed at democratizing and humanizing data. 
Additionally, we were drawn to the Data Values campaign for its emphasis on community and the social aspect of data. Data should serve people, not systems, and collaboration is the key to a fairer data future. At Data4Change we have created an interactive tool called Dot the Bot to introduce people to working with data and inspire them with its potential. At the end of the chat, participants are invited to set a learning intention. These intentions highlight the vital role of community empowerment in using data to create and inform equitable, effective, advocacy:
"My intention is to inspire positive change"; "I'm excited to make data handling lively and fun"; "My goal is to give hope to myself"; "I aim to use data for meaningful participation"; "I seek to raise awareness on global issues using data".
2. Youth For Privacy, United States and South Korea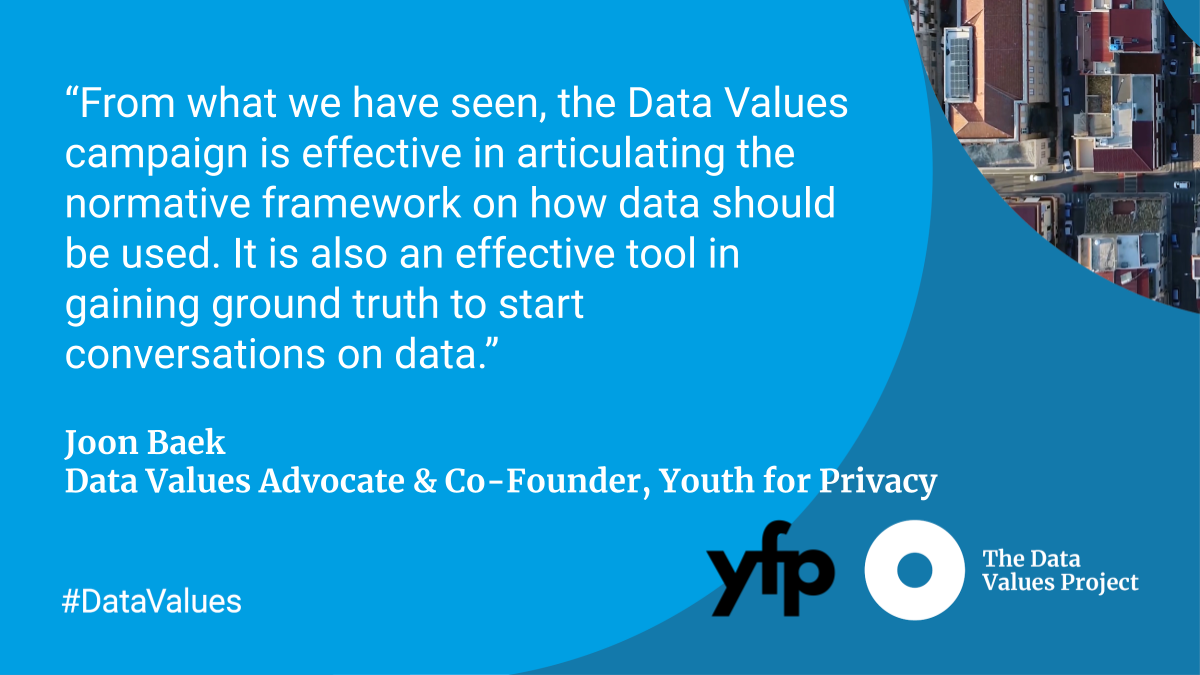 Placing youth at the center of data and data values 
By: Joon Baek, Co-Founder 
Youth for Privacy has been actively engaged in supporting the Data Values campaign over the past year through a series of impactful actions and activities. Our biggest event for the campaign is the Data Values Bootcamp. The Data Values Bootcamp was a dynamic three-day event that brought together 50 participants from eighteen countries, spanning major continents. The bootcamp featured expert talks, workshops, panels, and networking opportunities, all designed to empower attendees with knowledge and skills in data, privacy, and responsible technology. 
Participants left the bootcamp equipped with knowledge and practical skills, with a significant percentage indicating their readiness to initiate conversations about data values and advocate for responsible data handling in their communities. Additionally, the bootcamp kicked off a discussion about data values online, with over 5,000 views on Twitter and 545 likes on LinkedIn about posts regarding the bootcamp by the participants.
Youth for Privacy has worked in the intersection of youth, technology, and effective policy making for the past two years. During our time, we hosted numerous workshops in-person educating young people about effective youth data advocacy. When we learned about the Data Values campaign and manifesto, we incorporated them into our curriculum. Specifically, we have a section in the workshop where we ask young people to formulate how they want their data to be handled. 
From what we have seen, the Data Values campaign is effective in articulating the normative framework on how data should be used. A group of college students in Buenos Aires might have radically different experiences with technology as a group of high school students in South Korea and working professionals in New York, but they and a lot of other groups all agreed that the five Data Values "reflect their values." The Data Values are an effective tool in gaining ground truth to start conversations on data.
3. Aapti Institute, India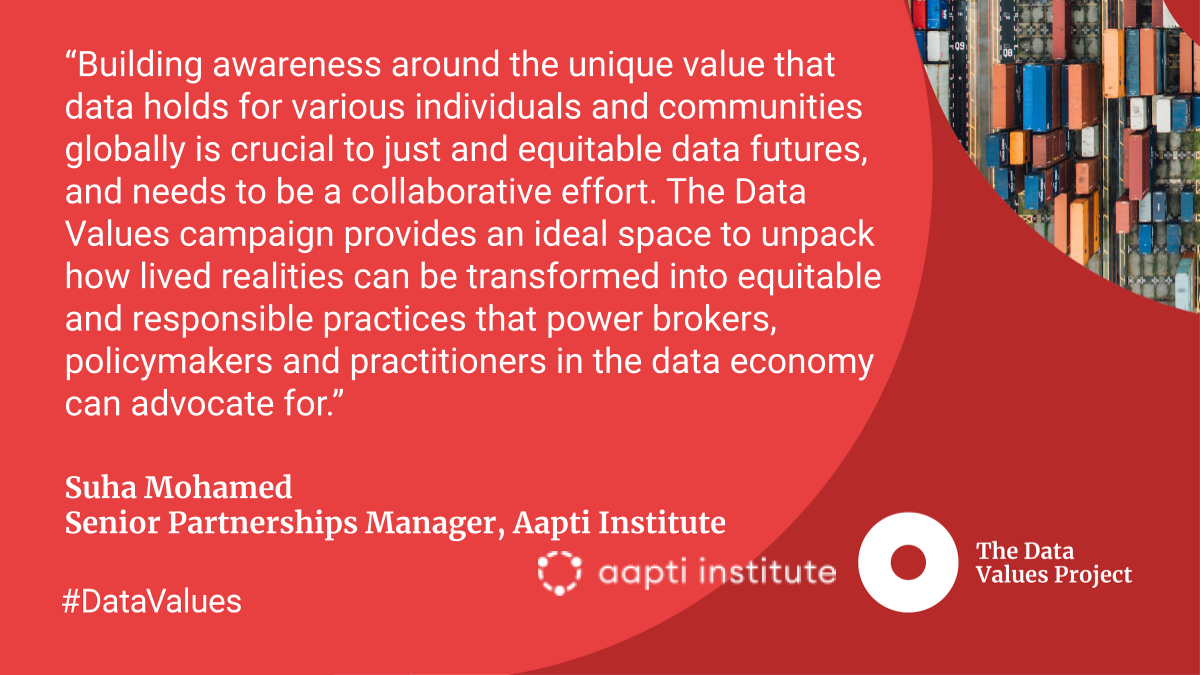 Exploring accountable and transparent data governance 
By: Suha Mohamed, Senior Partnerships Manager 
Since its inception, Aapti Institute has launched a series of initiatives through various streams of work to support emerging stewards (non-profits, data cooperatives, collectives), and explore how data can be better governed. 
In partnership with Data2x, Aapti spearheaded a first of its kind initiative to establish 'Data Co-ops in Action – a network of support' for gender data cooperatives. The incubator supports the growth of nascent women's data cooperatives through grants and in-kind support. This work has led to engaging with 3 global grassroots organizations to help them set up a data layer and transition to being a data cooperative.
In collaboration with Patrick J Mcgovern Foundation, Aapti has enabled 3 global non-profits through a data governance accelerator, guiding them to create organizational roadmaps and aligning on activities to support the responsible stewardship of data.
To promote participatory governance of platform work, Aapti has successfully spearheaded Uber India's Driver Advisory Council (DAC), where 6 in-person sessions have been convened with over 60 drivers across 9 cities in India. As an outcome of these sessions, a number of features including improvements on payment cycles have been built out for transparency and to facilitate ease of use for drivers. The DAC is in the second year of its operations and is considering questions around social security for platform workers as a part of its renewed scope.
Building awareness around the unique value that data holds for various individuals and communities globally is crucial to just and equitable data futures, and needs to be a collaborative effort. We need platforms that don't just accommodate these diverse viewpoints but encourage stakeholders from the public and private sectors to support their translation into practice. The data values campaign provides an ideal space to unpack how lived realities can be transformed into equitable and responsible practices that power brokers, policymakers and practitioners in the data economy can advocate for. 
4. University of Costa Rica - Innovaap, Costa Rica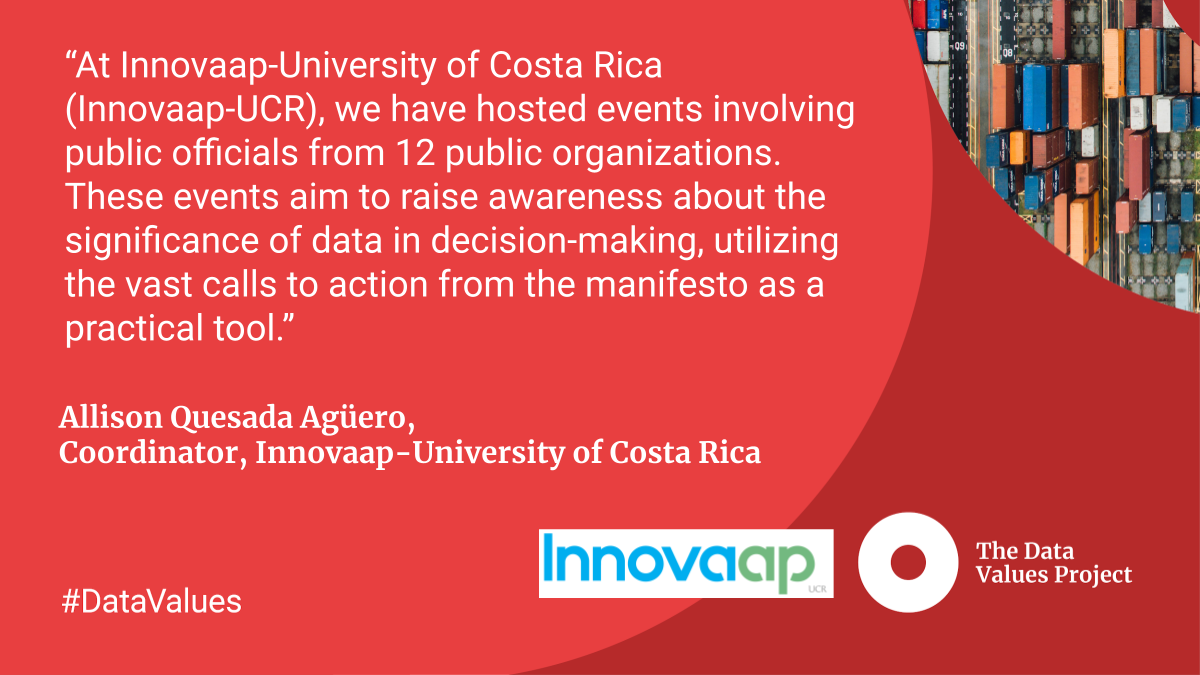 Institutionalizing and promoting data values in academia
By: Allison Quesada Aguero, Coordinator
At Innovaap-University of Costa Rica (Innovaap-UCR), we have hosted events involving public officials from 12 public organizations. These events aim to raise awareness about the significance of data in decision-making, utilizing the vast calls to action from the manifesto as a practical tool. Moreover, at Innovaap-UCR, we are dedicated to fostering the development of young individuals who will be future decision-makers. We aim to instill in them the perception of data as an essential work tool for achieving equity in accessing public goods and services.
Considering our roles as individuals within an academic environment like the university, we leverage the trust and relationships established with society and organizations to construct bridges that facilitate collaborative efforts. This involves dispelling misconceptions that hinder the sharing or generation of data collectively.
5. Connected by Data, United Kingdom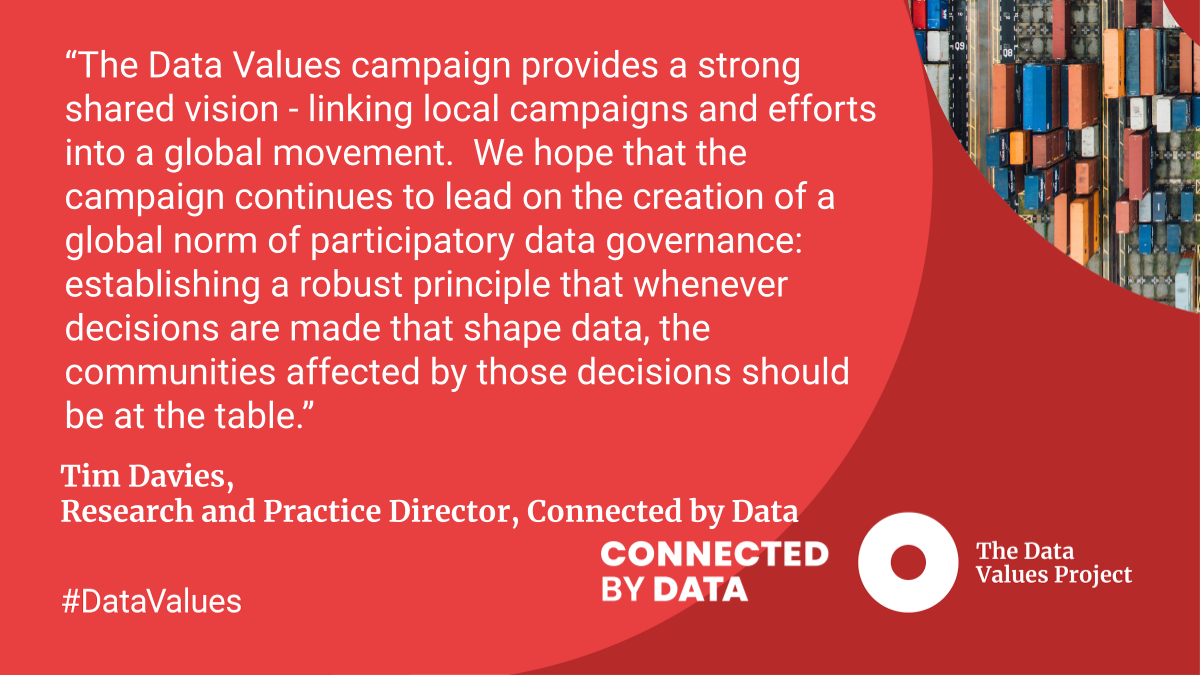 Tracking how data is shared, governed, and used for global public good
By: Tim Davies, Research and Practice Director
At Connected by Data, we've been delighted to work on research into measuring data values with the Data Values Project, the Global Data Barometer and the International Development Research Centre. Through this, we've had the opportunity to look at the role that existing indicator data can play in supporting advocacy for data values, and to think about the kinds of global indicators that would be useful to track progress towards a global norm of participatory data governance.  
Our work is all about giving communities a more powerful voice in how data is governed, and we were able to bring together an international group alongside RightsCon, with involvement from the Data Values Project, to explore common advocacy agendas for more collective and participatory approaches to data governance.  In the UK we've been focussed on supporting civil society to organize around the Data Protection and Digital Information Bill, and building stronger narratives that make clear why it is important for communities to have a say in how data works, including creating this video.
The Data Values campaign provides a strong shared vision; linking local campaigns and efforts into a global movement. We hope that the Data Values campaign continues to lead on the creation of a global norm of participatory data governance: establishing a robust principle that whenever decisions are made that shape data, the communities affected by those decisions should be at the table. A unifying campaign also helps us share learning on what works: having honest critical conversations about the kinds of strategies that can deliver real change.
6. Lifeline Empowerment Center, Uganda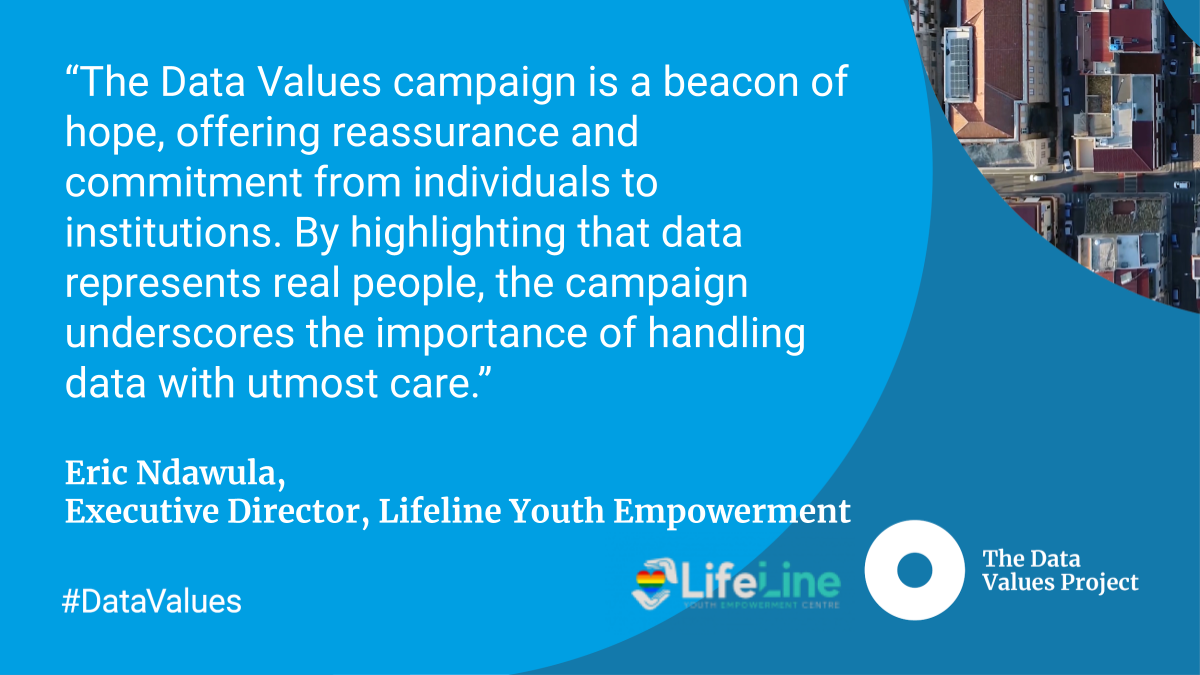 A data driven approach to enhance community collaboration 
By: Eric Ndawula, Executive Director 
Lifeline Empowerment, as a nascent organization, has embarked on a transformative journey to instill a data-driven approach into its operations. Recognizing the need for collaboration, we initiated our "Iterambera" program, collaborating with various organizations to share our data expertise spanning data collection, analysis, governance, and integrity. Our affiliation with Data4Change's Sankeys Fellowship has significantly enhanced our capabilities in this endeavor. 
The Data Values Manifesto, instrumental in altering organizational perspectives on data, serves as a cornerstone in our engagements with diverse organization leaders. Over the past year, we have partnered with seven organizations, witnessing firsthand the transformative potential of data comprehension for Ugandan communities. Most notably, we have observed organizational shifts toward data-driven and evidence-based project and program design.
As we celebrate the first anniversary of the Data Values campaign, it's clear that significant progress has been made towards achieving a fairer data future. The community has grown, partnerships have been strengthened, and innovative programs have been launched. The contributions of organizations like Data4Change, Aapti Institute, Connected by Data, Youth for Privacy, Innovaap-UCR, and Lifeline Empowerment and beyond have been instrumental in promoting data values and creating a more equitable data landscape. Together, we can continue pushing for positive change and ensure that data serves people and empowers communities.
Don't forget to join us on October 3, 2023, at 9 am ET to commemorate year one of the campaign. Register now!