This article was originally published here on Sightsavers' blog.
Linsey Winter, Sightsavers' disability data disaggregation project manager, shares how the Inclusive Data Charter is helping accelerate action on collecting, analysing and using data which includes everyone, everywhere.
The global lack of inclusive data is a critical development issue. We know that some of the world's poorest and most marginalised people, including people with disabilities, are at risk of being left behind. Data on their lives is often either entirely missing, or the challenges they face are masked by national averages or programmatic data which does not consider specific population groups.
That's why at Sightsavers we're very proud to be one of the founding champions of the Inclusive Data Charter (IDC), which turns two years old this month. Launched in July 2018, it has helped to create a movement in support of inclusive and disaggregated data as we work towards the UN Sustainable Development Goals (SDGs). Momentum is building; the IDC is currently made up of 19 champions from across governments, international organisations and civil society who are taking action to address the data gap.
The IDC takes a holistic approach to inclusive data, bringing together organisations from different sectors and levels of technical expertise to learn from each other. It is committed to building a global body of knowledge on best practice which is freely accessible to all.
Like all the champions, Sightsavers has developed its own IDC action plan which outlines our commitment to specific objectives. Over the past two years we have strengthened our work around the collection, analysis, use and sharing of inclusive data. We know that without robust data, it is not possible to adequately plan for and allocate the necessary resources to ensure that our programmes achieve their objectives. It also helps us to plan and monitor who we reach: good-quality, timely and comparable data, including development indicators that can be disaggregated by factors such as sex, age, disability and geography, helps to ensure that the decisions we take do not reinforce existing inequalities.
"The global lack of inclusive data is a critical development issue."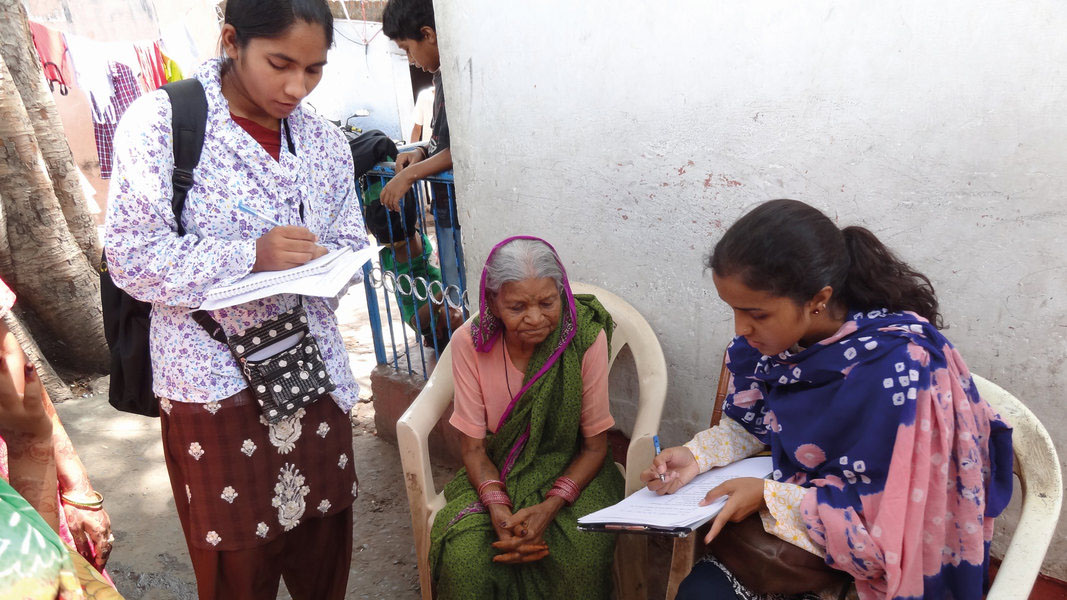 What progress have we made so far?
We're collecting data across our programmes. Sightsavers' collection of disability-disaggregated data initially focused on our health programmes. We have learnt from these programmes and have used them to strengthen our practice, and we are now building collection into new inclusive eye health programmes and projects in other thematic areas. This has been made possible by close collaboration between our monitoring, evaluation and learning and research teams, and our global technical leads, country office and project staff.
We've recruited people with a specific disability data focus. These people are able to offer technical support to strengthen the implementation of the Washington Group question sets, a standardised tool that can be used in different contexts, and the links between these and other methods of data collection.
We're taking a strategic cohesive approach to inclusive data, by reconvening a disability data disaggregation senior stakeholder group made up of people representing teams across the organisation to provide strategic direction.
We're continuing to integrate the Washington Group question sets in our projects, refining our processes as we go. We're increasingly looking at how we can use the data we collect to influence governments and other organisations.
 We're contributing to the global evidence base, sharing how we collect, analyse and use inclusive data on the national and global stage through meetings, conferences and working groups, as well as through publishing and sharing research papers on specific studies.
How we're influencing others to collect better data – an example
 In Senegal, as in many other countries, inclusive data is critical in highlighting the people who are at risk of being left behind and helping to identify the most effective actions to address their needs. Salimata Bocoum, Sightsavers' country director in Senegal, currently coordinates the council of non-governmental development support organisation's (CONGAD) civil society working group for the SDGs.
Salimata saw an opportunity to strengthen the government's commitment to implement a national level SDG strategy through the adoption of the IDC. The CONGAD working group has developed an advocacy strategy to promote the IDC and mobilise and engage stakeholders at all levels within civil society. Work is ongoing to influence the government to become an IDC champion and develop a clear action plan to be integrated in the monitoring of the national strategy to leave no one behind.
"Inclusive data is critical in highlighting the people who are at risk of being left behind."
An exciting few months ahead
Over the next few months, Sightsavers will continue to build on the work we are already doing. We will be reviewing and relaunching our IDC action plan to reaffirm our commitments and reflect the increasing breadth of work we are doing to strengthen inclusive data across the organisation.
We will also be facilitating a session on inclusive data at the UN World Data Forum, which is being held virtually in October 2020.  Along with speakers from government, multilaterals and other civil society organisations, we will share our learnings so far in the collection, analysis and use of inclusive data and candidly share some of the challenges we have faced. We will also be launching a learning publication about disability data aimed at external practitioners, which will outline our key insights and learning.
As we work towards achieving the SDGs by 2030, this is an important time to be monitoring progress. Initiatives like the IDC, and the commitments made by organisations and governments, will help to ensure that we continue to build the momentum around inclusive data to ensure we fulfil our promise to leave no one behind.