With the use of data visualization and portals, a Geography teacher is dissecting complex issues and communicating the SDGs in the classroom.
When I meet Bram Hamburger, a geography teacher at the Gerrit Rietveld College in Utrecht (the Netherlands), his students are all over the place. Coming and going in small sets, they are working on a lesson series he co-developed about energy neutral cities. He is busy helping the students self-mobilize. Bram is a patient man. With all done, he explains to me how Maptanker is helping him. The site offers dynamic maps, charts, and topic introductions to a Dutch classroom audience.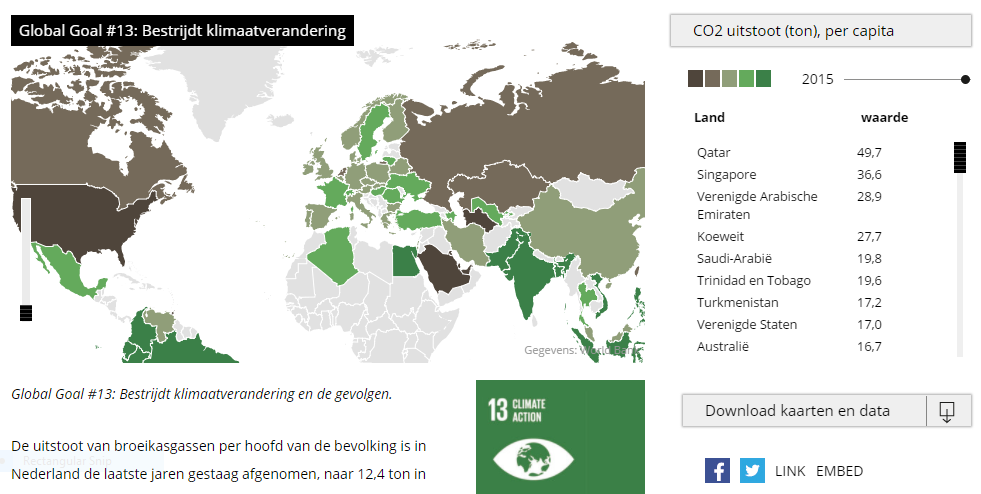 For the lessons about energy, his students need to find information for European countries. Not all students are at the same level, yet in Maptanker, they are all able to find the relevant information, and in an inspiring way. This speaks to my experience that it's worth putting forward concise information, rather than publishing everything you have. In the context of the Sustainable Development Goals (SDGs), this is especially challenging. There will be an impressive body of data, per country, per sex, per income group. When communication of the SDGs is at issue, for example in education, how to slice it down such that, in the case of Bram's class, every student will still feel inspired to explore?
"I like geography. It was a bit difficult to find the right map but once I found it, it was very easy to understand the map, the legend, and the time slider. — Eray Akay, student (age 14)
Clearly showing changes over time will certainly help. Immediately, this gives a way in for any viewer. In Maptanker we have a very prominent and crispy time slider. Color shades change, proportional circles resize. Seeing something change attracts attention and triggers questions, touching on both topic matter and data literacy. Is the change large or small? Sudden or gradual? Regional? Students are often required to compare specific countries. Bram invites them to use the line charts in Maptanker to see how two or more countries develop differently over time.
Topics in Maptanker are illustrated with world maps. This underpins the cross-cutting nature of most topics. For the SDGs in particular, it seems only natural to visualize them on a world canvas. Yet, learning about classroom usage in practice, it becomes clear to me that a regional perspective is as important. Looking at values for the Netherlands compared to those of its European neighbors, a Dutch student may sooner feel part of the story. For SDG-data communication, a blend of both looks most appealing. National and regional outlooks to speak most directly to the audience, a global perspective to keep check on overall proportions and stimulate awareness of world affairs.
Maptanker is an initiative by Mapping Worlds. The website introduces top-level datasets in the fields of geography, economy, and social science to Dutch learners. The data are presented through maps, charts, and short pieces of narrative to describe the topic. The site is powered by Tellmaps, our tool to create e-Atlases. We offer Maptanker as a free resource.