Prime Minister Nawaz Sharif of Pakistan made an appearance at the Punjab Central Police Station on March 11 to inaugurate a new data system linking all police stations across the province. This is a major change, as Punjab, with a population greater than any country on the African continent, had until recently depended on paper-based systems that gave police officers a lot of leeway in whether and how to log in complaints. In his comments, the Prime Minister said that senior officers should make sure police stations are welcoming to citizens.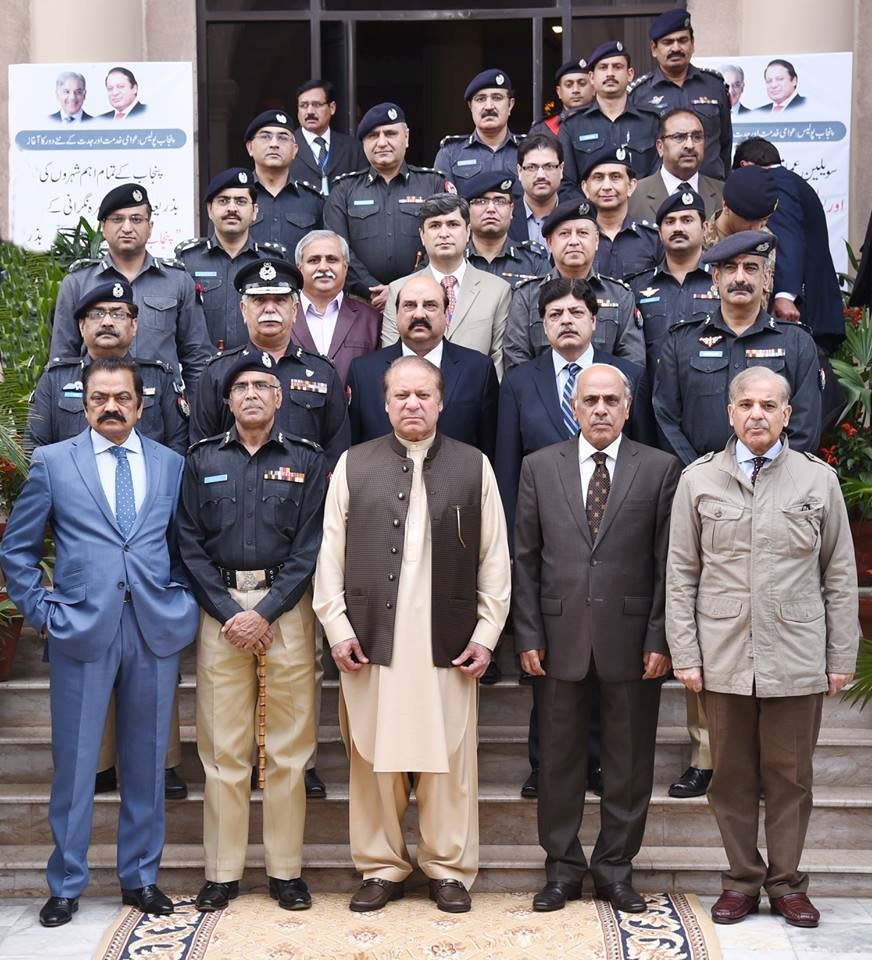 These may seem like two separate ideas – to ensure citizens are treated right and to build data infrastructure within the police force – but in fact they are closely linked. Pakistanis complain of "Thana culture" (thana being the Urdu word for the local police station), shorthand for local officers who are rude and dismissive, and may abuse their power. And citizens across South Asia report that complainants, particularly women reporting sex crimes, find police stations unwelcoming. Violent crime has been found to suppress development in poor countries – so police reform that encourages reporting is needed. Yet a large-scale policy experiment in Rajasthan, India that showed that placing local observers in stations at peak hours had no robust impact on citizen satisfaction.
Now Punjab is taking the lead with its new policy, called the "Front Desk System," placing citizen employees in stations as monitors. The difference is data.
Crime victims entering police stations in Punjab will first encounter, not policemen, but civilians – generally young, computer-literate university graduates of either gender who immediately enter the complaint in a database. Behind the scenes this means a far more data-rich environment where complaints are electronically tracked and cases of non-response are automatically escalated to senior officers. Media responses to the pilot stage of the program said it "has ushered in a new era of public service and will go a long way in improving police perception."
The Front Desk System is the latest stage in the evolution of how Punjab's police deal with information – a process that has been spearheaded by the Chief Minister of Punjab and fostered by tech-savvy police officers, the Government of Punjab and the Punjab Information Technology Board. Zulfiqar Hameed, Regional Police Officer the Sargodha region of Punjab, says, "There's a sense that the old, conventional way of doing things is not really serving anymore, so officers now keep coming up with new ideas and new initiatives that are getting entrenched in the police."
Crime incidents now enter the system, not only through the front desks of police stations, but also at the scene of crimes through a mobile app, adding to sophisticated data maps that are changing how Punjab's police conduct patrols. Ironically, this movement owes a lot to a criminal – the one who stole a particular economist's car five years ago.
Hotspot Policing
On the morning of 8 February 2012, Dr Ali Cheema a founding member of the Center for Economic Research in Pakistan (CERP) and a fellow at the Institute of Development and Economic Alternatives (IDEAS), was woken by his wife telling him that his newly bought car had been stolen. Cheema called his insurance company to file a claim, and was surprised to receive a visit from the company's senior vice president later that day. "It turned out his own car had gotten stolen, just ten streets away from me," Cheema says. In the course of conversation, the VP revealed that six cars insured by the company had been stolen in the area over a period of two weeks.
Struck by the information gap this represented, Cheema discussed the incident with Hameed, a long-time acquaintance who at the time served as Senior Superintendent of Police Investigations in Lahore. Hameed confirmed that certain neighbourhoods were more prone to crime, and to that point, police practice did not take that into account.
Like in other countries, Pakistani police conducted random, regular patrols. However, research from the US and other Western countries had shown that crime tends to cluster in "hotspots" and that targeted policing worked better. The Kansas City Preventive Patrol Experiment of 1974 showed that increased patrols did not reduce crime, and a 2012 study in Boston showed that police officers working with community members to identify hotspots and apply "problem-oriented policing" was associated with 17% reduction in violent crimes.
Cheema and Hameed approached the Deputy Inspector General of Police Investigation of Lahore at the time, Malik Ali Aamir, who launched a research project that would chart the distribution of crime in Lahore. With Technology for People Initiative and the Punjab Information Technology Board, they developed a smartphone app by which an officer arriving at a crime scene sent data along with the geo-stamped location to a central server.
"As far as I'm aware, in Pakistan this was probably the first time police and researchers worked together on crime issues," Hameed says.
At this time, there was no evidence on the distribution of crime in Pakistan. Jacob Shapiro of Princeton University, who uses micro-data to understand insurgent violence, explains the importance of this research: "There's no standardized address system in Pakistan, so you can't say a crime took place at such-and-such address. That means it's hard for the police to pin down where crime happens. Plus, there's no established reporting chain for incidents. So a big chunk of the innovation is determining the day-to-day mechanics of geo-locating crime in the context of South Asian policing and the geography of cities and Pakistan. That's a big deal."
By 2014, the team had some preliminary findings to share. The research organization I work for, Evidence for Policy Design (EPoD) at Harvard Kennedy School hosted a policy dialogue through the Building Capacity to Use Research Evidence (BCURE) program funded by UK Aid from the UK government, where Cheema and Hameed presented maps showing that crime did indeed occur in clusters in urban Lahore.
 Also through BCURE, Cheema and Hameed conducted a pilot project to create crime maps in a different context – the semi-urban and rural Sargodha region – and showed that crime followed a different pattern in the countryside. Shapiro says, "The fact that the geography of crime is different in the larger urban areas versus the rural areas has strong implications of police effort. It might mean that you need different training programs and different organizational structures in urban and rural areas." Indeed, in response to the data, Hameed installed tracking devices in police vehicles to allow dispatchers to swiftly send officers to rural crime sites, since they showed a much wider geographical spread.
Data for development
Research is showing how smart use of data can improve school performance in Pakistan's education sector, allow its tax authority to increase revenues, and cut employee absenteeism in its state-run health clinics. Improving the practice and accountability of police is yet another, perhaps unexpected, benefit.
Police in Punjab and Lahore – and the Chief Minister of Punjab's Safe Cities Authority Initiative in particular – are considering changes inspired by the broadening crime data infrastructure, such as moving away from random patrolling and toward targeted policing and investing in intelligence-gathering in areas of high crime saturation.
When asked about whether Pakistan's police will continue to incorporate data into practice, Hameed says, "I don't think this is going to go away. I think has actually reached a state where it will develop further."
Vestal McIntyre is a Staff Writer for Evidence for Policy Design (EPoD) at Harvard Kennedy School. Follow @EPoDHarvard for more.