The international community committed to 'leave no one behind' when it agreed to the 2030 Agenda for Sustainable Development and its 17 Sustainable Development Goals (SDGs). With this commitment, timely data about who is at risk to be left behind takes on a new urgency. Yet as we fill the data gaps, it becomes essential to ask how data contributes toward tangible improvements in people's lives.
How can data ensure that the child whose family cannot afford school fees has access to a quality education? How can data reduce the likelihood that an adolescent girl will become a child bride or will die in childbirth? How can data expand opportunities for decent work and social mobility for a household that does not have access to electricity or the internet?   
Better data will help to map current conditions and provide baselines for monitoring progress in the future. But moving from better measures to better outcomes requires more work. It is therefore necessary to ensure that quality and timely data are available, accessible, highlight inequalities, and that there are measures to protect privacy against data misuse. Most importantly, data must be utilized to inform the decision-making of our leaders. The five action areas below highlight how the link between data and human development can be strengthened to 'leave no one behind.'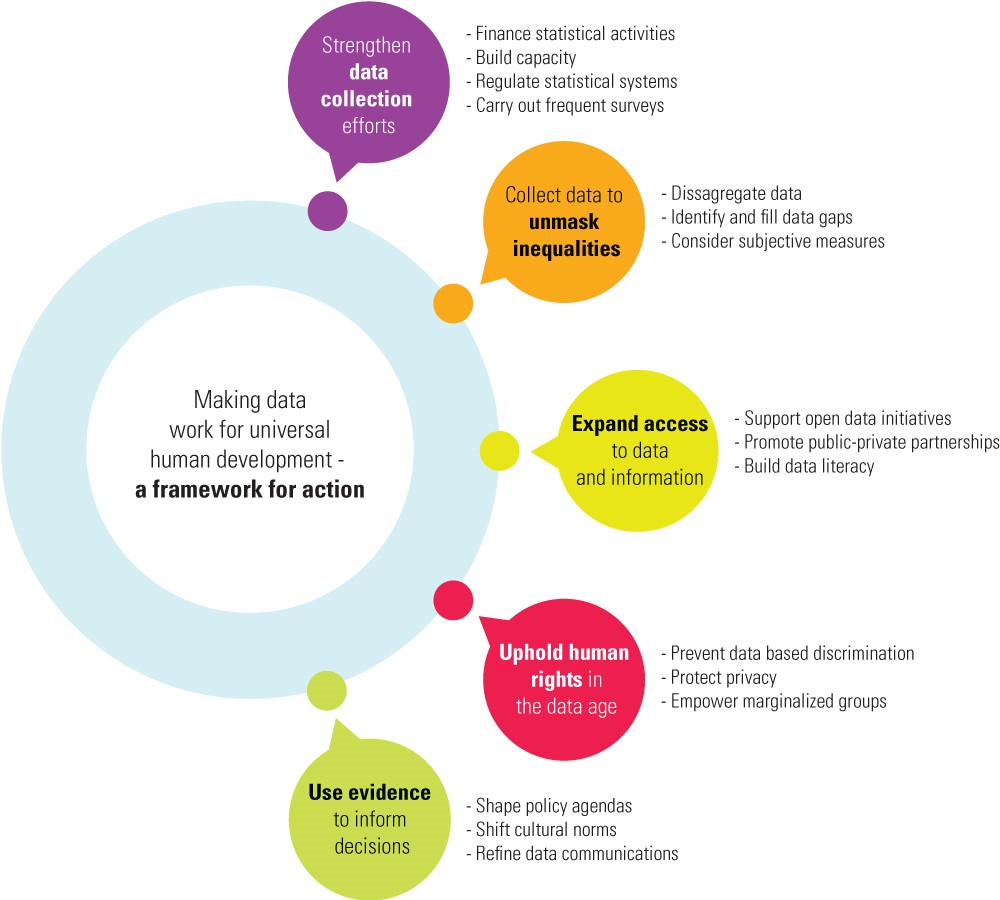 Strengthening data collection efforts – Efforts to extend data collection on issues of sustainability and social well-being should continue to receive support. But more broadly, financing stronger statistical systems should be prioritized. Generating better statistics must be treated as a global priority and a foundation for both policymaking and addressing the needs of marginalized groups. 

Many countries face a multitude of challenges in data collection ranging from staff shortages to outdated technologies. Short training courses and workshops can effectively introduce new ideas and help trained professionals hone existing skills. However, longer-term investments in human resources will remain necessary to build statistical human resource foundations.

Apply data to make inequalities and deprivations visible – Imbalances are often "hidden" in aggregates and averages. For example, there are very often stark inequalities across urban and rural areas, between men and women, among different ethnic groups, between different age groups, and for sexual minorities, indigenous peoples, people with disabilities, and other vulnerable groups. Better data can reveal inequalities, thus informing policymaking – helping decision-makers understand inequalities and barriers facing marginalized groups, and how people view their life conditions.
Expand access to data and information - People who have access to data have the capacity to make informed decisions and engage in more reasoned public dialogue. Therefore, equal and open access to information is important for social and political engagement. Actions to expand data access can include opening data sets to a larger population, promoting public–private partnerships for data sharing, and investing in data literacy. Building these skills across a population calls for governments to invest heavily in specialized education, training, and technology.
Ensure the protection of privacy and uphold human rights – The collection and dissemination of data, especially disaggregated data on sensitive topics, must be matched by strong systems of privacy, non-discrimination, and human rights protection. While open data initiatives and the increased use of big data are beneficial, they also generate the need for greater privacy protection. Additionally, there is always a risk that data can be misused to discriminate against marginalized groups rather than assist them. If strong anti-discrimination laws are absent, and if human rights are violated with impunity, efforts to collect disaggregated data are unlikely to be successful in helping to "leave no one behind" and could expose some groups to new vulnerabilities.
Use evidence to inform decisions - Strengthening the ties between knowledge and policy requires the use of evidence as a central plank in decision-making at all levels and across sectors. Dialogues and policy that draw on discriminatory beliefs, fears, or cultural norms rather than data-based evidence lead to policy actions that perpetuate exclusion and inequality. Through the promotion of targets and indicators in policy agendas and national development plans, data can encourage evidence-based thinking to counter more subjective influences.
The 2030 Agenda marks a renewed commitment to global cooperation and action towards leaving no one behind. This commitment can be harnessed to fill data gaps, but more comprehensive data must be accompanied by actions in other areas.
In a "post-truth world," the challenges for turning evidence into policy are high. Shifting views towards data and knowledge as public goods and instilling a greater focus on evidence as a foundation for public deliberation and policymaking would go a long way. At the same time, it is imperative that privacy and protection are at the center of any efforts to expand data coverage and access. Protecting vulnerable groups, committing to uphold human rights, and ending all forms of discrimination are more essential than ever.