The World Economic Forum's Global Risks Report highlights the top 10 risks facing our planet. Similar to previous years, many of the major risks are environmental. Many discussions I had, whether in person or via social media, focused on fact that 5 of the most likely risks surrounded extreme weather, climate change, and other environmental disasters.
Similarly, several sessions I attended at the World Economic Forum's (WEF) annual meeting in Davos this year focused on the environment, and more specifically, the role data can play to mitigate climate change and protect the environment.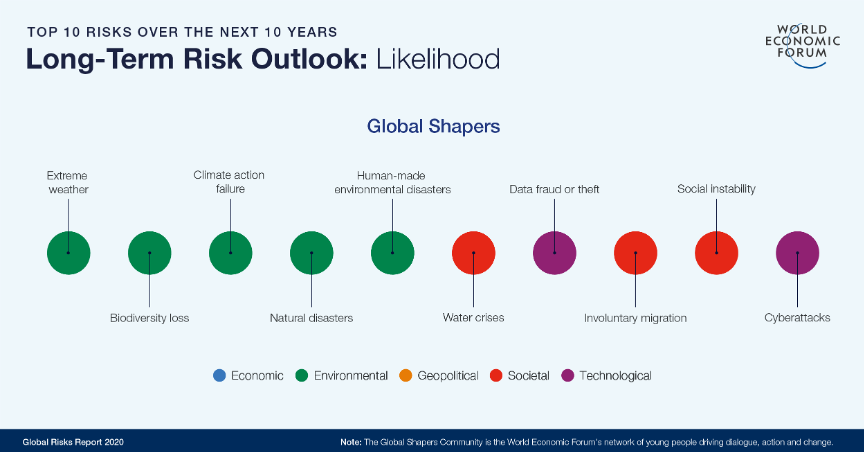 Data.org, an initiative launched by the Mastercard Center for Inclusive Growth and the Rockefeller Foundation, aims to leverage data science for social impact. During the launch, Sir Mark Lowcock, the Under-Secretary-General for Humanitarian Affairs and Emergency Relief Coordinator and the Head of the United Nations Office for the Coordination of Humanitarian Affairs (UN OCHA), announced a new report assessing the data that is currently available or missing across humanitarian operations.  It's estimated that just over 50 percent of crisis data is available. The Group on Earth Observations (GEO) has been contributing to humanitarian data initiatives via UN OCHA's Centre for Humanitarian Data. For example, GEO's Global Agricultural Monitoring Initiative (GEOGLAM) has been working on special reports on food security forecasting for UN OCHA.
At the Global Partnership for Sustainable Development Data's WEF-affiliated event, data for development advocates discussed the Data For Now initiative and pre-launched the Data Clocks global campaign, which will count our global progress towards the SDGs in the final decade before the 2030 deadline. These clocks are an important contribution to the UN Decade of Action, helping to galvanize action on the SDGs. Watch out for the launch in London in September 2020. But the clocks are just one part of the Data for Now initiative. The initiative works across sectors, with a broad coalition of partners to strengthen data systems and improves accuracy and timeliness of data for its country partners. With more timely data – including Earth observation (EO) data – decision-makers can improve policies that accelerate achievement of the Sustainable Development Goals (SDGs).
Data for Now works by helping test, match, and scale tools and solutions that are proven to provide timely and relevant data. GEOGLAM is a great example of such a solution, but it's just one of 50+ activities in the GEO work programme.
My talk this year at the Amazon Web Services event Harnessing AI and ML for long-term sustainability, focused on the GEO-AWS Cloud Credits Programme, which is supporting 21 projects from 17 developing countries with cloud processing for Earth observation data.
I highlighted four of the winning projects, each of which illustrates the impact Earth observation data can have on a wide range of potentially lifesaving applications from wildfire monitoring and Tsunami warnings to biodiversity mapping.  
For example, Tsinghua University in China is developing a service to visualize ongoing fires in East Asia on a world map using Sentinel, Landsat, and meteorological satellite images. The data is processed and made openly available to users via a web based platform, which will link to the Global Wildfire Information Service (GWIS) – a resource that has been actively monitoring the ongoing Australian wildfires.
In Costa Rica, a new project will provide the first ever global maps of "critical natural capital," which are ecosystems that provide benefits that are not easily replaced. This project has already received an award from the UN Environment Programme, and was featured in Science.
In Indonesia, the Global Mobile Tsunami Warning System is using Earth observation data to warn of tsunamis in the region. Led by Ikatan Ahli Tsunami and the Tsunami Research Foundation, this project builds on the NASA GreatAlerts system to provide mobile warnings in affected areas.
The last project comes from Ukraine, where researchers are using EO to improve national forestry statistics and combat illegal mining activities. Here, EO data is being used to evaluate land cover and report on illegal land use and several land-related SDGs in the Deep Learning for Satellite Monitoring of Illegal Amber Mining project.
Finally, I attended "Cities Leverage the Fourth Industrial Revolution to Accelerate Achievement of the Global Sustainable Development Goals," a session hosted by the Thunderbird School of Global Management in partnership with The Conrad Hilton Foundation, the City of Los Angeles, USA, and the City of Nairobi, Kenya. This excellent session described how "many cities have already adopted, adapted, acted and innovated on the SDGs. However, the emerging technologies of the 4IR enable cities to do much more, and the work can be done better, faster, and on a far greater scale." For more on this, I would point readers to their white paper on global technology governance.
So that's it for another year, but it's good to see continued emphasis on data to provide insights and evidence for decision-making at Davos. Please feel free to get in touch at sramage@geosec.org with your feedback.