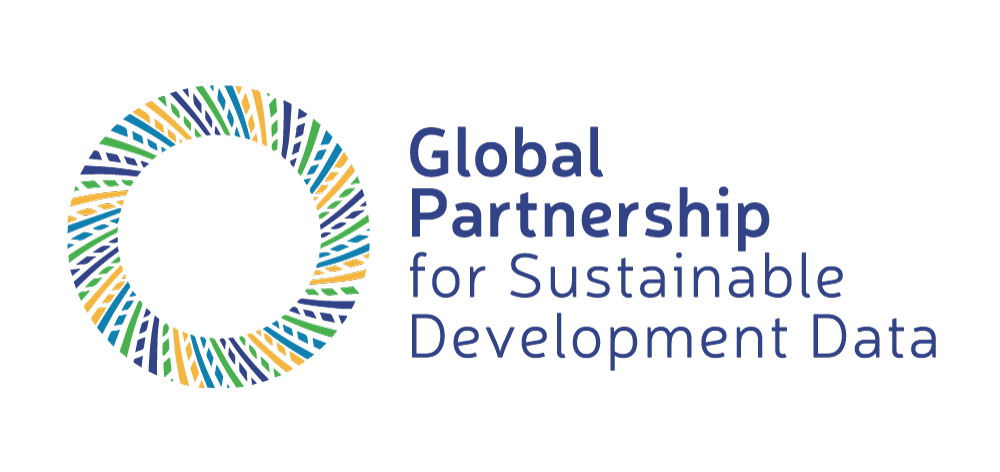 About the Global Partnership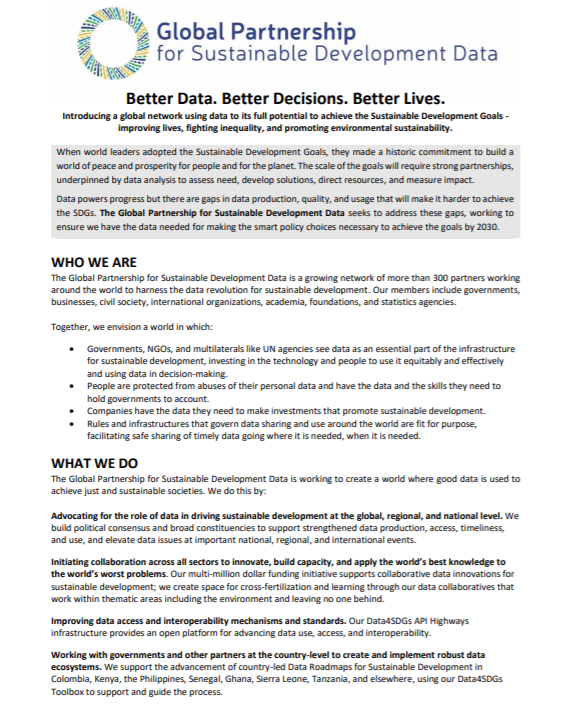 One-pager (PDF, 300 KB)
Global Partnership Logos and Branding
Primary JPEG | Vertical JPEG | Branding Guide (PDF, 1MB)
Press Contacts
Jennifer O'Neill Oldfield: joldfield@data4sdgs.org
Amber Kiwan: akiwan@data4sdgs.org 
Claire Melamed, CEO, Global Partnership for Sustainable Development Data
Dr. Claire Melamed is the CEO of the Global Partnership for Sustainable Development Data, heading up a global team based in six countries. She was previously Managing Director of the Overseas Development Institute, and in 2014, she worked in the office of the UN Secretary-General, writing the report of the Independent Expert Advisory Group on the Data Revolution, "A World That Counts." Claire is based in London, has worked for a number of international NGOs and taught at the University of London and the Open University. Dr. Melamed has a PhD from the University of London, and can be found on Twitter at @clairemelamed.
Jenna Slotin, Senior Director for Policy, Global Partnership for Sustainable Development Data
Jenna Slotin is Senior Director of Policy for the Global Partnership for Sustainable Development Data. Prior to this she was Director, Sustainable Development Policy at the UN Foundation. She has over 12 years of experience at the UN and working on UN policy issues related to sustainable development and peacebuilding with a particular focus on analyzing the political dynamics around the 2030 Agenda, development data, and the UN's peacebuilding architecture. Jenna has project management and leadership experience from time spent working at UNDP in Kosovo and as Chief Operating Officer of Building Markets, a social enterprise that promotes private sector development in fragile and post-conflict countries. She has published several independent reports on peacebuilding and fragile states and co-managed a research program on these topics at the International Peace Institute. Jenna holds a Master of International Affairs from Columbia University with a concentration in International Security Policy and a BA in Peace and Conflict Studies from the University of Toronto.
Davis Adieno, Regional Director for Africa, Global Partnership for Sustainable Development Data
Davis Adieno is the Director of Programs for the Global Partnership for Sustainable Development Data, based in Nairobi, Kenya. He works with governments, regional bodies, non-state actors, private sector and other organizations, through national data roadmap processes to define strategies that support their priorities for investments and innovations in data. With extensive experience in data, citizen engagement, and policy engagement, Davis previously worked  as  the Global Partnership's Regional Director for Africa. Prior to GPSDD, Davis worked for CIVICUS World Alliance as Senior Advisor, Data, Accountability, and Sustainable Development, and Development Initiatives as Senior Manager, Strategic Partnerships and Data Use. He champions the harnessing of the data revolution for effective sustainable development at various levels – by supporting and bringing together multiple stakeholders to develop inclusive information ecosystems that support data sharing and use
Jennifer Oldfield
Jennifer Oldfield, is Director of External Relations at the Global Partnership for Sustainable Development Data - a network with 250 member organisations spanning governments, private sector, and civil society -- to harness and leverage data and data technology towards achieving the Sustainable Development Goals. She previously worked for United Nations, in UNDP's Human Development Report Office and for United Nations Global Pulse initiative communicating how data can be used to improve lives. In 2014, she was an adviser in the Secretariat that helped the UN Secretary-General's Independent Expert Advisory Group (IEAG) on a Data Revolution for Sustainable Development deliver their influential report 'A World That Counts – Mobilizing The Data Revolution for Sustainable Development'. Prior to the UN, Jennifer spent 10 years working for the UK Government as a speechwriter, digital communications expert and finally in the Prime Minister's Office as website and social media editorial lead for Prime Minister David Cameron. Jennifer holds Bachelor & Masters degrees in English from King's College London.
Partner Organizations, partners
The Global Partnership for Sustainable Development Data is made up of a network of hundreds of partners around the world, specializing in various themes. Have a look at the partners page and send us an email for interview or media requests related to any partners.