Cepei and the Global Partnership teamed up to launch the "Data for development in Latin America" Webinar Series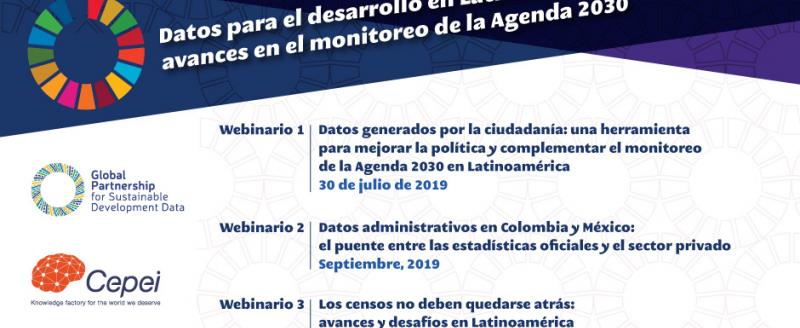 La implementación de la Agenda 2030 ha representado uno de los retos más desafiantes de las últimas décadas. Por la demanda de nuevos y más detallados datos, la incursión de herramientas tecnológicas de alto impacto y la creación de mecanismos de monitoreo en tiempo real tanto para los compromisos políticos como estadísticos. También porque ha evidenciado la clara necesidad de aunar esfuerzos entre actores y crear alianzas que promuevan la cooperación multilateral.
América Latina y el Caribe ha puesto énfasis en repensar los modelos tradicionales de desarrollo, partiendo de la identificación de los progresos realizados por cada país y los instrumentos de política pública utilizados para abordar sus necesidades. La región, igualmente, ha buscado promover el intercambio tanto de experiencias como de lecciones aprendidas entre sus países, aprovechando la heterogeneidad de prioridades establecidas en cada territorio. 
Sin embargo, la distancia geográfica es un limitante para los encuentros que permiten llevar a cabo este tipo de ejercicios. Por ello, la Global Partnership for Sustainable Development Data y Cepei, en calidad de su aliado estratégico para América Latina y el Caribe, han organizado tres webinarios en español, bajo la serie "Datos para el desarrollo en Latinoamérica: avances en el monitoreo de la Agenda 2030", con el fin de facilitar una comunicación directa entre sus miembros y apoyar los procesos de intercambio de experiencias.
En esta primera sesión, presentaremos la relevancia y uso de los datos generados por la ciudadanía para la construcción de políticas públicas oportunas. También se expondrán casos de estudios que evidencian las oportunidades que brindan los datos generados por los ciudadanos para complementar las estadísticas oficiales. Enucuentre más información aquí.
The implementation of the 2030 Agenda has represented one of the most enriching challenges of recent decades. It created a demand for generating new and more detailed data, the introduction of high-impact technological tools, and the creation of real-time monitoring mechanisms for both political and statistical commitments. As a result, there is a clear need to join forces between actors and create partnerships that promote multilateral cooperation.
Latin America and the Caribbean has rethought traditional development models, based on country progress and the public policy instruments used to address their needs. The region has also sought to promote the exchange of experiences and lessons learned among the countries of the region, taking advantage of the heterogeneity of priorities established in each territory.
However, the geographical distance poses limitations to such meetings in-person. Therefore, the Global Partnership for Sustainable Development Data and Cepei, as its strategic partner for Latin America and the Caribbean, have organized "Data for development in Latin America: progress in monitoring the 2030 Agenda," a series of three webinars in Spanish, which aim to facilitate direct communication among its members and support the processes of exchanging experiences.
This first session will present the relevance of citizen-generated data for improved public policies that respond to citizens' present needs. The webinar will also present case studies illustrating how citizen-generated data can complement official statistics. Find more information here.
** The Global Partnership will also kick-off a webinar series on population data starting in Autumn 2019. More information will be made available through our website. **
Contributing Partners
Grupo FARO is an Ecuadorian independent, think-and-do tank that focuses on strengthening all stakeholders to participate actively in the design, implementation, and monitoring of public policies.
Innovaap is a multi-stakeholder platform focused on co-creating sustainable solutions to address public issues in Costa Rica.