7 Data Innovation Projects Win Funding to Tackle Local Challenges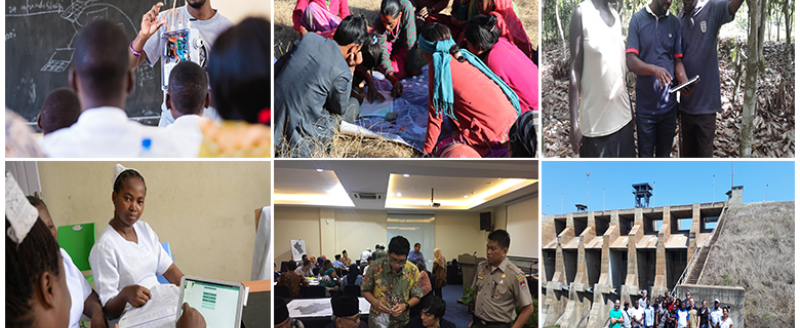 How can data be used to improve disease outbreak warning, urban planning, air quality, or agricultural production? Seven winning projects, which will receive support from the third round of funding for collaborative data innovation projects, do just that and more.
Following the success of the first round of funding in 2017 and the second round of funding in 2018, the World Bank's Development Data Group and the Global Partnership for Sustainable Development Data launched the Collaborative Data Innovations for Sustainable Development Fund's third round in June 2018.
This round called for ideas that have an established proof of concept that benefits local decision-making. We were looking for projects that foster synergies, and collaborations that take advantage of the relative strengths and responsibilities of official and non-official actors in the data ecosystem.
The winning data-driven projects tackle issues like disease outbreak warning, urban sanitation, urban planning, air pollution, agriculture, and more. The seven selected projects, summarized below, will be implemented by collaborating organizations, each of which offer a range of complementary tools, skills, and knowledge.  Each project will include a knowledge-sharing and lessons learned component, to encourage a catalytic effect on a country's capacity and enabling further innovation and impact.
This initiative is supported by the World Bank's Trust Fund for Statistical Capacity Building (TFSCB) with financing from the United Kingdom's Department for International Development (DFID), the Government of Korea and the Department of Foreign Affairs and Trade of Ireland.

2019 Innovation Fund Recipients
Urban Planning Tools as Agents of Change: Collaborative spatial data for sustainable urban development (Indonesia)
This proposal aims to create evidence-driven planning in Indonesian cities to disrupt the status quo of slow and rigid planning processes. It will do so by producing disaggregated data and integrating national planning standards and survey and census results with global data sets and satellite imagery. It will promote an ecosystem approach that establishes data governance for disrupting institutional siloes. The approach will also support the use of geospatial data for decision-making. It will encourage the use of urban planning tools to simplify complex planning and urban management processes by helping cities analyze the patterns of urban growth and infrastructure gaps.
The team says: "Disrupting deep rooted and rigid practices that perpetuate institutional silos is one of the most challenging parts. The answer lies in both steering and rowing the boat together. Towards this end, we have focused on building trust, developing a common vision across all stakeholders and supporting local champions. We make significant attempts to understand institutional dynamics that preserve institutional silos and take these into account within the technical solutions we propose."
Collaborators: World Bank City Planning Labs (lead); Capital Sustentable (CAPSUS); Ministry of Agrarian Affairs and Spatial Planning, Government of Indonesia
Early Warning (disease) Outbreak Recognition System (Nigeria)
This project will use Early Warning Outbreak Surveillance Systems (EWORS) to detect disease outbreaks earlier than possible with traditional paper-based surveillance mechanisms. EWORS allow the electronic collection and analysis of routine clinical and non-clinical data to inform the likelihood of a disease outbreak in a given geography. It sends automated email and SMS alerts to disease surveillance officers if potential outbreaks are identified.
The team says: "Too often in Africa, disease outbreaks are recognized when large numbers of fatalities occur in one geography.  Fortunately, technology is increasingly providing mechanisms for effective epidemiology outbreak prevention and control.  We recognize that the ability to capture and analyze disparate data points in the ecosystem can allow powerful inferences and insights. Leveraging these capabilities, we expect improved disease surveillance capabilities, government policy projections and financing, and the deployment of EWORs that will allow government to boost the capacity of its human resources for health."
Collaborators: Instrat Global Health Solutions (lead); Ondo State Ministry of Health (OSMOH); Inmarsat PLC; Plus91 Technologies; Dr. Femi Oshin – Consultant Epidemiologist
sensors.AFRICA: citizen science using sensor data to tackle deadly environmental dangers by producing actionable information (Kenya, Nigeria, Tanzania)
This project aims to reduce premature deaths, respiratory diseases, and cardiovascular conditions caused by air pollution by providing 3,000 low-cost sensors, which can measure and monitor the quality of air and water in their communities in Kenya, Nigeria, and Tanzania. The project intends to later expand to other Code for Africa (CfA) target countries. 
The team says: "In the countries in Africa where we live and work, citizens seldom have actionable information to make life or death decisions. We are often forced to stumble through our lives, in the dark, condemning ourselves and our families to unnecessary risks. CfA, and our new sensors.AFRICA initiative, tries to change this by using simple data-driven technologies to give us all the hard evidence and information we need to make better-informed decisions. Secondly, we try to use civic technologies to empower ordinary citizens themselves rather than usual institutional power brokers and gatekeepers. We actively involve grassroots citizen networks, school pupils, and watchdog media activities to ensure that there is real traction and impact."
Collaborators: Code for Africa (lead); Nigeria's National Bureau of Statistics (NBS); News Agency of Nigeria (NAN); The Technical University of Kenya (TUK); Global Learning and Observations to Benefit the Environment (GLOBE); Liquid Telecom; Vrije Universiteit Brussel (VUB); The World Bank Tanzania Country Office; OmniVis
Digital and Spatial Technologies for Disaster Governance: Capacitating rural and urban municipalities (Nepal)
This project will design and operationalize an Integrated Municipal Disaster Governance System (IMDGS) using the best available digital and spatial technologies. The project will collect locally relevant disaster risk data and resources and link them to IMDGS for evidence-based local decision-making and employ participatory GIS and remote sensing techniques.
The team says: "Nepal, being highly exposed to multiple natural hazards including floods and landslides, has experienced huge loss of lives and economy in recent years. We have been working on developing innovative climate technologies and approaches to build resilience of our vulnerable community and minimize risks from these disasters in Nepal. Through our work, we have realized that with the substantial advancement in digital and spatial technology, there are opportunities to reduce the risk associated with these natural hazards by optimum utilization of available information."
Collaborators: Practical Action Consulting Pvt. Ltd. (lead); International Institute for Applied Systems Analysis (IIASA); Young Innovations Pvt. Ltd.; Naxa Pvt. Ltd.
HydroPC: Operational hydrological forecasting using publicly available data and free cloud-based technologies (Mozambique)
This project will provide practical, sustainable, and state-of-the-art technologies for hydrological forecasting and mapping based on free global data sources, free cloud computing, and open-source software. It will also produce and disseminate timely and reliable information on oncoming hydrological threats such as floods and droughts. Together with the Unidade de Controle de Cheias e Secas (UCCS), the team will develop a flexible data management environment that combines global data sets with official national hydrological data and publishes processed data online.
The team says: "It appeared that the official hydrological data available to the UCCS are highly variable in spatial and historical coverage, still require proper validation, and that key processing and forecasting tools were outdated or unsustainable because of high licensing costs. Also, the hydrological products provided by the UCCS could still be improved to better serve the needs of various stakeholders groups, which range from disaster management organizations, water suppliers, and the agricultural sector. Together, we realized that global data sets and open source software were needed to improve services."
Collaborators: HKV Consultants (lead); Deltares; IHE Delft Institute for Water Education
Map to the Future (M2F): Integrating soil mapping into cocoa farm development plans (Ghana)
This project will enable climate-smart investments for smallholder farmers based on a better, site-specific understanding of soil variability and how it mediates climate impacts. The aim is to improve the productive capacity of Ghanaian cocoa farms. It will help cocoa farmers improve their decision-making by integrating local soil characterization with global soil maps and satellite data.
The team says: "In countries like Ghana, where cocoa is the main export, but many cocoa farmers live at or below the poverty line, farmers need to use their very limited resources as effectively as possible to sustainably improve cocoa production. Accurate information is essential, and information on soil quality can impact fundamental farming decisions. For example, some soils may not be appropriate for growing cocoa at all, while other soil could benefit enormously from the use of appropriate soil amendments. We hope that by providing farmers with more specific information on their soil--without necessarily needing a soil test--will provide immediate value to the farmer as well as to the agronomist who is supporting him or her. Because the data provided by the farmers for assessing their soil will be part of an open- source database, this also will contribute to more and better information for future cocoa farmers in Ghana."
Collaborators: Grameen Foundation USA (lead); Rainforest Alliance; Touton; United States Department of Agriculture; The University of Colorado at Boulder
Creating a data hub for urban sanitation in Antananarivo (Madagascar)
This project aims to transform how the urban sanitation sector uses data to get toilets to those who need them the most. It will bring together key sanitation providers in the city and work with them to transform how they collect, use, and share data, which will ensure that investments in sanitation are data-driven and directed to where they're needed most.
The team says: "We believe in the power of people. Without proper sanitation, kids get sick, girls drop out of school when they start their periods, people can't work, and communities get dangerously polluted. It's simple: people and cities cannot thrive without safe, clean toilets. And yet there are still 2.5 billion people living in cities around the world without sanitation. We want to use the power of data to get toilets to people who need them and allow people to achieve their potential."
Collaborators: Gather (lead); Commune Urbaine d'Antananarivo; Water and Sanitation for the Urban Poor; Loowatt Madagascar