Somalia has a hot, dry climate, with uneven rainfall and regular droughts, and, in recent years, cyclones. In addition, the majority of the population relies on livestock and agriculture for their livelihoods, meaning the country is highly vulnerable to climate change's current and future impacts.
When COVID-19 hit, the Global Partnership and UNECA facilitated partnerships between Somalia's National Statistics Offices and other partners to support Somalia to access and use geospatial data to estimate the impact the virus was having on the nation.
GRID3 provided remote training over two months, focusing on capacity-building in GIS for the National Bureau of Statistics in Mogadishu, and officers from the Puntland State statistics office in Garowe.
Using their new skills, the officers were able to help authorities make decisions in response to COVID-19.
All too soon, the new skills were put to the test in a very different context.
November 22, 2020
Tropical Cyclone Gati made landfall on Puntland's coastline.
In this fast-moving and dangerous situation, the Puntland Statistics Department used GIS to monitor the cyclone and rapidly assess its impact to inform the emergency response. Staff identified and mapped the cyclone's path, its magnitude, and the number of villages, roads, and other infrastructure that would be in its path for reference in preparedness, emergency, and recovery efforts.
Cyclones have afflicted Somalia for the past ten years and are becoming more frequent due to climate change. They cause a lot of destruction, especially if they come after a drought. 
"When we heard that there was a cyclone moving to Puntland, we appointed a team of GIS officials within the Department of Statistics, and we said that we could do something about this because it's within the training that we took," Kelly says.
The training meant the team could know which areas would be most affected by the cyclone and warn people to avoid them — something that has not been possible in the past.
They were able to send out messages to people within the boundaries of the cyclone to warn and advise them about what to do, including covering animals and moving to higher ground. They also liaised with other government departments to pass on the messages to people. Using the geospatial information provided, the Puntland response coordination team could determine where impacts were greatest and locate damaged buildings or injured residents so that they could act more quickly.
For Kelly, the training and the access to these data portals was about gaining a more comprehensive perspective. "You can know the status of your people, but before that, our data was sparse among a lot of departments, but now we are trying to collect the information from each and every department so that we connect these dots to see the bigger picture."
It also meant they could help save lives — in real time.
"You can add something, you can help your people," he says. "And now you can save some lives with this technology."
Staff identified and mapped the cyclone's path for emergency efforts.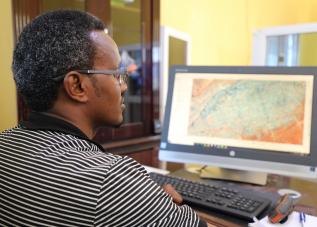 Cyclone Gati killed eight people and affected nearly 180,000 people in total, including fishers, pastoralists, small business owners, and other vulnerable communities such as internally displaced persons who had lost their livelihoods, shelter, and other basic life essentials.
The data Kelly and his team collected were passed on to the President of Puntland State's High-Level Cabinet Coordination Team so they could discuss the implications and determine an appropriate course of action to address the condition of food security and infrastructure in the region. 
Davis Adieno, the Director of Programs for the Global Partnership, says it was impressive seeing what partnerships could lead to. "It initially started with the basic skills for COVID tools," he notes. "But then those skills were deployed for the response efforts for the cyclone."
GRID3 works to support geospatial data use for development purposes through the creation of data products, provision of technical support and capacity strengthening and training. In training activities like those with the Puntland staff, it works to empower the participants to take what they have learned and use the skills and knowledge in practice. 
Annie Werner, from GRID3, reflects, "It can definitely still be a challenge sometimes to see that translation from training and using these data products and analysis that we may help provide or that our partners do and then turning it into actual decisions and action. Definitely, we would love to see more of the types of things that the Puntland staff were doing."
For the NSO's Abdulai Abdulkadir Kelly, having these different partners to call on for the training was crucial — it was "like having more than one friend."
Working with the different partners, facilitated by the Global Partnership, meant the NSO could access "different ideologies, different capacities and ideas and thoughts. You can get different ideas from different people instead of having one idea from one person," Kelly adds.
Going into a situation where the Global Partnership had already consulted with authorities on what was needed also meant GRID3 could be efficient in a time of crisis, Werner says. "They were very useful for that initial engagement since they have a lot of contacts already all over sub-Saharan Africa... They know ahead of time what it is that we can offer often. That's the difficult part — trying to find what exactly is needed — and they were definitely helpful facilitating those conversations."