When COVID-19 hit, there were global fears over what would happen in Africa's most populous nation. More than 200 million people live in Nigeria, with several informal settlements constituting hotspots, so concerns were high that the already overburdened health care system would not withstand a rapid spread of the virus. There were also fears that low public trust in health care systems and widespread misinformation about the virus would add to the challenges of effectively controlling COVID-19. 
Having data, evidence, and easy access to information was vital for this West African nation during the pandemic, and the Government wanted to draw information together to make it easier to use and understand.
The Global Partnership, UNECA, and their partners worked with the National Bureau of Statistics in Nigeria (NBS) to create a comprehensive data hub to show where cases of COVID-19 were occurring and what support might be needed.
The Global Partnership identified the GRID3 Consortium (the nonprofit Flowminder, the location-based data services company Fraym, Esri, and the United Nations Population Fund), Qatar Computing Research Institute, Surgo Foundation, as solutions providers that would enable the NBS to update its existing COVID-19 tracker into a more robust COVID-19 data hub. 
In two months the COVID-19 data hub was launched
incorporating and presenting pandemic information, with case numbers and health information from diverse sources, including the Nigeria Centre for Disease Control's COVID-19 tracker.
Through the Global Partnership, the data hub was expanded with additional data embedded, including mobility data from Flowminder and Qatar Computing Research Institute. The hub was a user-friendly one-stop shop for COVID-19, used by the Government, the Presidential Task Force on Covid-19, the Nigeria Centre for Disease Control, and anyone else who wanted to understand Nigeria's dynamic situation. 
The NBS brought into the hub additional critical information, including locations of health care facilities, cases by region, and locations of infection epicenters, drawn from diverse sources including Nigeria Centre for Disease Control, Our World in Data, and the MRC Centre for Global Infectious Disease Analysis at Imperial College.
Lola Talabi-Oni, a technical adviser to the Statistician-General at the NBS in Nigeria, says there were significant concerns over Nigeria's ability to handle COVID-19. Early on, the Global Partnership reached out, offering to organize partnerships and products to help track the pandemic in Nigeria.
"After consulting with these partners, we decided on a COVID data hub. Housing all the different data points that are coming out across the country was the most relevant and easily accessible way for us to monitor the pandemic," Talabi-Oni says.
The key reasons for needing the hub were challenges in getting access to data, and the bureaucracy and coordination difficulties experienced between government agencies trying to share data.
Talabi-Oni says the office faces challenges similar to those in other developing countries. The National Bureau of Statistics has to rely on administrative data that is collected from other ministries. "Many agencies are maybe not as transparent or they don't have the capacity to be as transparent consistently, and some data producers are not very comfortable with the idea of sharing data," she says. "Sometimes there's a sense that once you share data, then you don't have ownership of the data anymore."
The NBS has worked to build capacity within agencies as well as data culture awareness, which has been especially necessary in the nation's battle to contain COVID-19.
Working across the Government and getting as much data as possible, made available for anyone to see, was necessary to build trust about the seriousness of the pandemic. The NBS wanted to make sure whenever someone looked for information about cases, they would see the same numbers.
"It was really important because, during COVID, you had data coming from the Ministry of Health, you had data from the Nigeria Centre for Disease Control, you had data coming from the Presidential Task Force," she says.
The NBS worked to harmonize the data coming from different sources and agencies. "We thought that it's a really good opportunity to bring everything together so that even though there are multiple data points, people have access to one hub where they can see data coming from these different agencies," Talabi-Oni says.
The NBS worked with the Nigeria Centre for Disease Control to share and aggregate data for the hub, including maps of landmarks, hospitals, access to water, and access to health care at the local government level.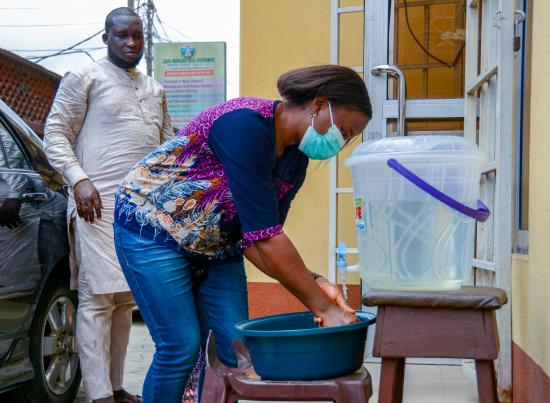 The NBS was able to "bring together all the different data points available within the Government, and make it accessible and useful not just to policymakers within Government but also useful to users outside," Talabi-Oni says.
The hub was used when the NBS was called on to provide data for high-level meetings, including for the Presidential Task Force subcommittees on managing the pandemic. 
It also encouraged other ministries and agencies to use data in their policymaking and planning. "That has also helped to ensure that policy responses are based on data and driven by data, and not just that, but everyone is singing from the same hymn sheet," Talabi-Oni says.
The hub was an important resource for public information as well as government decision-making. Across the world, as news of the pandemic spread and the restrictions on movements took effect, the climate was ripe for misinformation. This was also true in Nigeria. Conspiracy theories were prominent on social media, as were unverified cures for the virus.
Jamie Hitchen, an independent researcher who has delved into the impacts of misinformation and disinformation in Nigeria, observes that the source of information is important when it comes to public trust.
"If you have wonderful and credible data, but the institution producing it lacks credibility or name recognition, then the data it produces may not be that well received by the public," he says.
He points out that to increase trust, it is essential to produce credible data collected as transparently as possible and share it. This will help to challenge misconceptions people might hold about the virus. "If they have that information and believe the risks, they are more likely to comply with public health guidelines," he says. "From a planning perspective, it is also important that the health authorities and other stakeholders have credible data they can use to provide nuanced responses."
'Gbenga Sesan, Executive Director for Paradigm Initiative, a pan-African organization that advocates for digital rights and inclusion, notes that the social contract that should exist between citizens and government has been eroded by years of corruption and bad governance that have left people distrusting government promises. Data can play an important role in healing this breach.
"Data allows citizens to get verifiable information that can be trusted," he says. "Instead of high-sounding promises, data can be subjected to time and action tests."
However, data needs to be provided in a context that citizens can relate to, he says, and it also needs to be current. For instance, 2001 data used to justify a 2021 policy will be viewed as suspicious, he says.
For Talabi-Oni, this matter of trust was very important. She says it is crucial to the National Bureau of Statistics that the public can trust in the numbers they were putting out through the dashboards, and it was important that anyone could see them.
She was aware that users of data sets, including members of the general public, would often struggle to compile data points if they had to go to different places to get it. Putting it all on one data hub with a dashboard and making it easy to understand and navigate was crucial, she adds.
"It's been a good case study for us, showing that we can create data visualization and expand our geospatial information systems (GIS) capacity within the National Bureau of Statistics," she says. "I wanted it to also be a hub where others, including tertiary institutions, can add their analysis. We wanted to make it open and accessible as much as we can."
The COVID-19 data hub was critical to building up public trust and awareness around COVID-19 in Nigeria, where there was so much uncertainty. 
"[Our COVID-19 data hub] helps people to understand some of the data that Governments also use. It's a little bit more inclusive," Talabi-Oni concludes. "It builds trust, it builds understanding, and that's a world that we also quite want to live in."